Here's what to expect when you are 10 weeks pregnant with twins and nearing the end of the very first trimester:
Fetal Development
By 10 weeks in the twin pregnancy, each of your twins will be about 1.2 inches long (31 mm) from crown to rump. Each baby is about the size of a kumquat.
All of your twin's major organs have formed by this point and they have the ability to swallow.
Get Weekly Twin Pregnancy Updates
What to Expect
Typical weight gain for Mom at this point is between 1 to 1.5 pounds/week (0.5 to 0.7kg).
Total weight gain for the twin pregnancy so far will average between 10 to 15 pounds (4.5 to 6.8kg).
(NOTE: Still expecting?
Get weekly updates on your twin pregnancy here.)
Mom may experience dizziness, vision changes, and acne.
Pictures and Video
Here's an ultrasound video of what you might see at 10 weeks pregnant with twins:

Belly Picture at 10 weeks: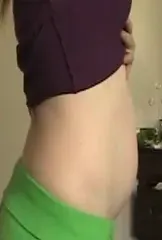 Dad's Thoughts
You're really hoping that Mom's morning sickness will be over soon. She's miserable and you feel there isn't much you can do to help. Ultrasounds keep giving you the reality check that indeed twins are on the way even though Mom doesn't look pregnant with twins.
Get Weekly Twin Pregnancy Updates
Previous: 9 Weeks | Next: 11 Weeks
View entire Twin Pregnancy Week by Week
Sources: When You're Expecting Twins, Triplets, or Quads: Proven Guidelines for a Healthy Multiple Pregnancy by Dr. Barbara Luke and Tamara Eberlein and Babycenter's Average fetal length and weight chart