Here's what to expect when you are 12 weeks pregnant with twins and at the end of the very first trimester:
Fetal Development
By 12 weeks in the twin pregnancy each of your twins will be about 4 inches long (102 mm) and have the following measurements:
Head circumference: 3″ (78 mm) about the size of a grape – maybe an inch across
Abdominal Circumference: 2.5″ (64 mm) which is about the size of a US Quarter coin
Femur Bone Length (about from the waist to knee): 0.4″ (9.5 mm) which is about the same as the height of a CD case.
Each baby is about the size of a lime or passion fruit.
Your twins' fingers and toes have formed and they may even be sucking their thumb by now.
View more details of your twins' development at Twins fetal development: 12 weeks pregnant.
Get Weekly Twin Pregnancy Updates
What to Expect
Typical weight gain for Mom at this point is between 1 to 1.5 pounds/week (0.5 to 0.7kg).
Total weight gain for the twin pregnancy so far will average between 12 to 18 pounds (5.4 to 8.2kg).
Hopefully the morning sickness of the first trimester is easing up by this point. Typical symptoms at this stage include changes to Mom's skin including coloration, acne, and even a healthy "pregnancy glow".
Heartburn will likely be an issue during this stage and throughout the pregnancy.
Pictures and Video
Here's an ultrasound video of what you might see at 12 weeks pregnant with twins:

Belly Picture at 12 weeks: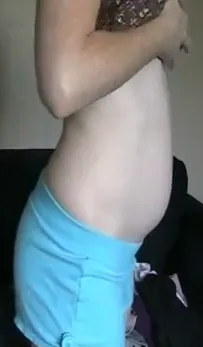 What to Prepare This Week
When Mom is 12 weeks pregnant with twins, it is a great time to announce you are having twins. Twins are special so do something creative to announce your twin pregnancy.
Dad's Thoughts
By the time Mom reaches 12 weeks pregnant with twins, everything is still very surreal. You'll likely have found out you are having twins recently and will still be in complete shock. Hang in there, the shock wears off a little over time.
Get Weekly Twin Pregnancy Updates
Previous: 11 Weeks | Next: 13 Weeks
View entire Twin Pregnancy Week by Week
Sources: When You're Expecting Twins, Triplets, or Quads: Proven Guidelines for a Healthy Multiple Pregnancy by Dr. Barbara Luke and Tamara Eberlein and Babycenter's Average fetal length and weight chart