Here's what to expect when you are 14 weeks pregnant with twins:
Fetal Development
By 14 weeks in the twin pregnancy each of your twins is 3.4″ (8.7 cm) from head to rump and weighs 1.5 ounces (43 grams) and averages the following measurements:
Head circumference: 4″ (101 mm)
Abdominal Circumference: 3.5″ (89 mm)
Femur Bone Length (about from the waist to knee): 0.6″ (15 mm)
Each baby is about the size of a nectarine.
Get Weekly Twin Pregnancy Updates
What to Expect
Typical weight gain for Mom at this point is between 1 to 1.5 pounds/week (0.5 to 0.7kg).
(NOTE: Still expecting?
Get weekly updates on your twin pregnancy here.)
Total weight gain for the twin pregnancy so far will average between 14 to 21 pounds (6.4 to 9.5kg).
From Your Fellow Twin Parents
Nick V. – "We are at 14 weeks. Mom feels pretty good…tired…but good."
Jo-Ann W. – "Twins are making me very tired. Cramps on my stomach and even feel like I am short of breath."
Erick – "Ultrasounds are coming back positive and we are doing our gender reveal this week."
Pictures and Video
Here's an ultrasound video of what you might see at 14 weeks pregnant with twins:

Belly picture at 14 weeks: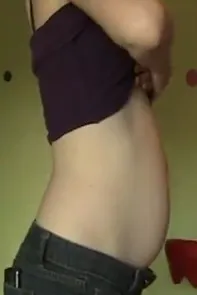 What to Prepare This Week
When Mom is 14 weeks pregnant with twins, it is a great time to start talking about names for your twins. Make a list of both boy and girl names and start this discussion early as it may take you a while to agree on two sets of names.
Dad's Thoughts
By the time Mom reaches 14 weeks pregnant with twins, it is likely that you've known about the twins for several weeks. The shock is starting to wear off and reality is settling in. The twin pregnancy will be a stressful time for you and Mom. Take some time to consider how you can reduce the stress of the twin pregnancy to ensure a happy relationship with your wife and create an environment where you'll have healthy twins.
Get Weekly Twin Pregnancy Updates
Previous: 13 Weeks | Next: 15 Weeks
View entire Twin Pregnancy Week by Week
Sources: When You're Expecting Twins, Triplets, or Quads: Proven Guidelines for a Healthy Multiple Pregnancy by Dr. Barbara Luke and Tamara Eberlein and Babycenter's Average fetal length and weight chart