Here's what to expect when you are 15 weeks pregnant with twins:
Fetal Development
By 15 weeks in the twin pregnancy each of your twins is 4″ (10 cm) from head to rump and weighs 2.5 ounces (70 grams) and averages the following measurements:
Head circumference: 4.5″ (114 mm)
Abdominal Circumference: 4″ (102 mm)
Femur Bone Length (about from the waist to knee): 0.7″ (18 mm)
Each baby is about the size of an apple.
Get Weekly Twin Pregnancy Updates
What to Expect
Typical weight gain for Mom at this point is between 1 to 1.5 pounds/week (0.5 to 0.7kg).
Pictures and Video
Here's an ultrasound video of what you might see at 15 weeks pregnant with twins:

Belly picture at 15 weeks: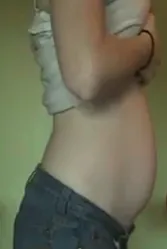 What to Prepare This Week
When Mom is 15 weeks pregnant with twins, she is likely growing out of her clothes (if she hasn't already). It's time to stock up on maternity clothes.
From Your Fellow Twin Parents
Lindsay C. – "15 weeks and feeling really good! We've been stocking up on diapers and wipes. Also registering generic stuff for our baby shower registry"
Josh H. – "So far mom is still pretty nauseous. She still has weak spells and is easily worn out."
Dad's Thoughts
Do you already have older children? By the time Mom reaches 15 weeks pregnant with twins, you've likely thought how can I love my twins as much as my other child(ren)? The good news is that you can! The challenges of the twin pregnancy and raising them will help form an even greater bond with your babies.
Get Weekly Twin Pregnancy Updates
Previous: 14 Weeks | Next: 16 Weeks
View entire Twin Pregnancy Week by Week
Sources: When You're Expecting Twins, Triplets, or Quads: Proven Guidelines for a Healthy Multiple Pregnancy by Dr. Barbara Luke and Tamara Eberlein and Babycenter's Average fetal length and weight chart