Here's what to expect when you are 17 weeks pregnant with twins:
Fetal Development
By 17 weeks in the twin pregnancy each of your twins is about 5″ (13 cm) from head to rump. They will each average the following measurements:
Head circumference: 5.5″ (140 mm)
Abdominal Circumference: 4.75″ (121 mm)
Femur Bone Length (about from the waist to knee): 0.9″ (23 mm)
Each baby is about the size of a pear.
Get Weekly Twin Pregnancy Updates
What to Expect
Typical weight gain for Mom at this point is between 1 to 1.5 pounds/week (0.5 to 0.7kg).
Pictures and Video
Here's an ultrasound video of what you might see at 17 weeks pregnant with twins:

Belly picture at 17 weeks: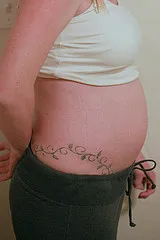 Picture by Jason Carter
What to Prepare This Week
When Mom is 17 weeks pregnant with twins, you need to remind yourself that you need to help Mom stay healthy during this pregnancy. Be her helper, assistant, and reminder of what the doctor has told her she needs to be doing. Get in this habit now so that when possible bed rest comes later, you've established a good routine of care.
From Your Fellow Parents at 17 Weeks Pregnant with Twins
Charles – "Mom has more energy than previous weeks. She is forgetful, has constipation and excessive salivation which she hasn't had before. Felt some pain or itching in her thigh. But in all, it was way better than the previous weeks."
Dad's Thoughts
By the time Mom reaches 17 weeks pregnant with twins, she might be feeling the babies moving around. Unfortunately, you still can't on the outside. It is exciting to hear her describe the fluttering feeling but also disappointing when you so desperately want to feel them yourself.
Get Weekly Twin Pregnancy Updates
Still wondering how to prepare for your twins? I cover specific things you should know and prepare for in my Dad's Guide to Twins book. Learn more about the book here.
Previous: 16 Weeks | Next: 18 Weeks
View entire Twin Pregnancy Week by Week
Sources: When You're Expecting Twins, Triplets, or Quads: Proven Guidelines for a Healthy Multiple Pregnancy by Dr. Barbara Luke and Tamara Eberlein and Babycenter's Average fetal length and weight chart
(NOTE: Still expecting?
Get weekly updates on your twin pregnancy here.)