Here's what to expect when you are 18 weeks pregnant with twins:
Fetal Development
By 18 weeks in the twin pregnancy each of your twins averages 5.5″ (14 cm) long from head to rump and has the following measurements:
Head circumference: 6″ (152 mm)
Abdominal Circumference: 5.25″ (133 mm)
Femur Bone Length (about from the waist to knee): 1″ (25 mm)
Each baby is about the size of a bell pepper.
Get Weekly Twin Pregnancy Updates
What to Expect
Typical weight gain for Mom at this point is between 1 to 1.5 pounds/week (0.5 to 0.7kg).
Total weight gain for the twin pregnancy so far will average between 18 to 27 pounds (8.2 to 12.2kg).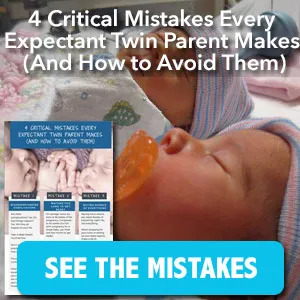 Picture and Video
Here's an ultrasound video of what you might see at 18 weeks pregnant with twins:

Belly picture at 18 weeks:

What to Prepare This Week
When Mom is 18 weeks pregnant with twins, can work on your twins' nursery and sleeping arrangements. There are several crib options for twins that will meet your individual living situation. Decide if you want them to share a crib initially or each have their own crib from the start.
From Your Fellow Parents at 18 Weeks Pregnant with Twins
Ashton W. – "our twin preparation has been very smooth and amazing. It's exciting to see their nursery and all the baby stuff coming together. I feel wonderful, the babies are doing fine and moving along with this beautiful journey."
Dad's Thoughts
By the time Mom reaches 18 weeks pregnant with twins, you are likely half way through the pregnancy. While your wife had a rough 1st trimester, things have been pretty easy for you. Get mentally ready as you'll need to step it up in the coming weeks to support your wife and family as she becomes more physically burdened with the twin pregnancy. If you haven't already found out, you should know the gender of your twins by 18 weeks. This knowledge brings a whole new excitement to preparations.
Get Weekly Twin Pregnancy Updates
Still wondering how to prepare for your twins? I cover specific things you should know and prepare for in my Dad's Guide to Twins book. Learn more about the book here.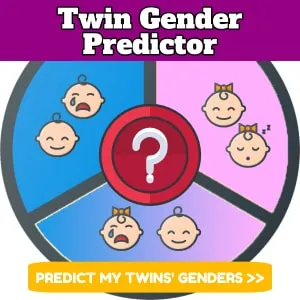 Previous: 17 Weeks | Next: 19 Weeks
View entire Twin Pregnancy Week by Week
Sources: When You're Expecting Twins, Triplets, or Quads: Proven Guidelines for a Healthy Multiple Pregnancy by Dr. Barbara Luke and Tamara Eberlein and Babycenter's Average fetal length and weight chart