Congratulations on making it to 20 weeks! You're well into your 2nd trimester and over halfway to delivery. Here's what to expect when you are 20 weeks pregnant with twins:
Fetal Development at 20 Weeks
By 20 weeks in the twin pregnancy, your twins are about 10 inches tall (26 cm) from head to foot and each weighs 10 ounces (300 grams). Each baby will average the following measurements:
Head circumference: 7″ (178mm) about the size of an egg
Abdominal Circumference: 6.25″ (158mm) which means you could wrap a US dollar bill around their belly
Femur Length: 1.3″ (34mm)
Each baby is about the size of an artichoke.
Your twins are covered in fuzzy fine hair and a slippery white substance to protect their skin. They've got fingernails now which, as they grow, will likely scratch themselves before being born.
Read more about your twins' growth here: Twins fetal development: 20 weeks pregnant.
Get Weekly Twin Pregnancy Updates
What to Expect at 20 Weeks
Typical weight gain for Mom at this point is between 1.25 to 2.0 pounds/week (0.6 to 0.9kg).
Total weight gain for the twin pregnancy so far will average between 20 to 30 pounds (9 to 13.6kg).
Mom should be able to feel the twins moving by now.
20 Weeks Pregnant with Twins Pictures and Video
Here's a 20 weeks pregnant with twins ultrasound (so you can get an idea of what to expect):

Belly picture at 20 weeks with twins: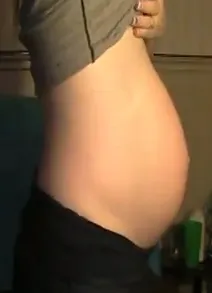 If Your Twins Were Born at 20 Weeks
Your twins are still very early and ahead of the 24-week milestone that is the viability of life threshold. Most twins born at 20 weeks do not survive. Those that do have major medical complications.
Get Weekly Twin Pregnancy Updates
What to Prepare This Week
When Mom is 20 weeks pregnant with twins, you need to have your transportation plans in place. Will your current car be big enough to carry your entire family once the twins arrive? You can get creative and fit twins in a smaller car or go shopping for a big SUV for your twin family.
From Your Fellow Parents at 20 Weeks Pregnant with Twins
Jacquilene S. – "Tired, but not too huge yet so still able to function."
Nicole W. – "Got the baby room ready and getting the playroom ready."
Brittany E. – "20 weeks and feel like poo! Baby girl is up in my ribs and I can't breath!"
Chris M. – "Ours were treated for twin to twin transfusion syndrome at 20 weeks at a children's hospital."
Thabiso M. – "Battling with lightheadedness especially if I stand for too long, or do my normal day housework without resting .. other than that all is well enjoying this precious journey"
Aneesa H. – "Going quite difficult for me.. alot of pelvic pain."
Dad's Thoughts
By the time Mom reaches 20 weeks pregnant with twins, she will likely start having temperature issues. She will be hotter than everyone else in the room. So if you fought about the thermostat temperature before the pregnancy, your disagreements will likely increase here. Do what you can to accommodate her temperature needs. Dad can always dress differently at home to be comfortable. Mom can't shed the oven she's got until the twins are born.
Get Weekly Twin Pregnancy Updates
Still wondering how to prepare for your twins? I cover specific things you should know and prepare for in my Dad's Guide to Twins book. Learn more about the book here.
Previous: 19 Weeks | Next: 21 Weeks
View entire Twin Pregnancy Week by Week
Sources: When You're Expecting Twins, Triplets, or Quads: Proven Guidelines for a Healthy Multiple Pregnancy by Dr. Barbara Luke and Tamara Eberlein and Babycenter's Average fetal length and weight chart