Here's what to expect when you are 26 weeks pregnant with twins:
Fetal Development
By 26 weeks in the twin pregnancy your twins are each 14″ (36 cm) long from head to foot and average the following measurements:
Head circumference: 10″ (248mm)
Abdominal Circumference: 8.75″ (223mm)
Femur Length: 1.9″ (49mm)
Each baby is about as long as a zucchini.
Get Weekly Twin Pregnancy Updates
What to Expect
Typical weight gain for Mom at this point is between 1.25 to 2.0 pounds/week (0.6 to 0.9kg).
(NOTE: Still expecting?
Get weekly updates on your twin pregnancy here.)
Total weight gain for the twin pregnancy so far will average between 27 to 42 pounds (12.2 to 19kg).
Pictures and Video
Here's an ultrasound video of what you might see at 26 weeks pregnant with twins:

Belly picture at 26 weeks: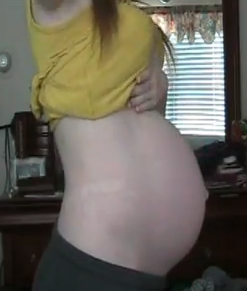 If Your Twins Were Born This Week
Your twins are very early preterm and the odds of survival are better than weeks past. However, twins born during the 26th week still risk major medical complications and life-long health issues.
Get Weekly Twin Pregnancy Updates
What to Prepare This Week
When Mom is 26 weeks pregnant with twins, get your twin diaper bag ready. You don't need two diaper bags, just find a quality bag that can easily carry double the supplies without breaking your back.
Your Fellow Parents at 26 Weeks Pregnant with Twins
Lindsay C. – "Feeling tired and big lol. Hard to bend over now. Swollen feet too."
Anna D. – "Feeling pretty good, considering I'm on strict bed rest. Babies are tap-dancing behind my belly button! (I think they're trying to turn my "innie" into an "outtie"…)"
Christina C. – "26 1/2 weeks with a sore belly today, plus plenty of backaches. Twin b/b are doing great though and the doctor says I'm doing good. So big people keep asking if I'm about to deliver. Uncomfortable, tired, but feeling blessed."
Emily – "26 weeks and 3 days with di/di girls! I have been feeling super drained, I have insomnia and I've been eating like my husband."
Brandy – "I feel and look like I am ready to give birth. We got one crib put up this week and I have all of their clothes washed and folded in their new dresser. My toddler is keeping me on my feet it is my 3rd pregnancy and the hardest so far."
Ruvarashe T. – "Going to the toilet frequently."
Niquilene – "Coming along very well. Got the chest of drawers for both of them today."
Dad's Thoughts
By the time Mom reaches 26 weeks pregnant with twins, you need to consider how twins will impact your work life and start making contingency plans. Set expectations with your boss and coworkers of what to expect.
Get Weekly Twin Pregnancy Updates
Still wondering how to prepare for your twins? I cover specific things you should know and prepare for in my Dad's Guide to Twins book. Learn more about the book here.
Previous: 25 Weeks | Next: 27 Weeks
View entire Twin Pregnancy Week by Week
Sources: When You're Expecting Twins, Triplets, or Quads: Proven Guidelines for a Healthy Multiple Pregnancy by Dr. Barbara Luke and Tamara Eberlein and Babycenter's Average fetal length and weight chart