Here's what to expect when you are 27 weeks pregnant with twins:
Fetal Development
By 27 weeks in the twin pregnancy each of your twins averages about 14.5″ long from head to foot with the following measurements:
Head circumference: 10.5″ (267 mm)
Abdominal Circumference: 9.3″ (236 mm)
Femur Bone Length (about from the waist to knee): 2″ (51 mm)
Each baby is about the size of a head of cauliflower.
Get Weekly Twin Pregnancy Updates
What to Expect
Typical weight gain for Mom at this point is between 1.25 to 2.0 pounds/week (0.6 to 0.9kg).
Pictures and Video
Here's an ultrasound video of what you might see at 27 weeks pregnant with twins:

Belly picture at 27 weeks: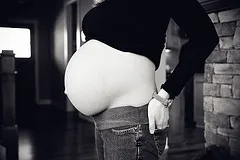 Picture by PhotograTree
If Your Twins Were Born This Week
Your twins are very early preterm and the odds of survival are better than weeks past. However, twins born during the 27th week still risk major medical complications and life-long health issues.
John W.'s twin boys were born at 27 weeks and weighed 1lb 13oz and 2lbs 3oz. They spent 79 days in the NICU.
Get Weekly Twin Pregnancy Updates
What to Prepare This Week
When Mom is 27 weeks pregnant with twins, discuss how you will be feeding the twins. If Mom will be breastfeeding, look at twin feeding pillow options to help support the babies while they eat.
(NOTE: Still expecting?
Get weekly updates on your twin pregnancy here.)
Your Fellow Parents at 27 Weeks Pregnant with Twins
Jamey M. – "It's getting rough. The additional weight is really starting to take a toll on my body, especially my knees and low back. Its frustrating getting tired just doing laundry or making dinner."
Tom B. – "We now have four bassinets ready; two for both up and downstairs. Lots of clothes ready to go. My wife is starting to really slow down and finding it hard to sit up from being seated or in bed. The excitement is definitely building for me, but I think the tiredness is wearing on her!"
Omar A. – "Mom feels fatigued much of the time and tosses from side to side at night."
Melanie C. – "My wife is feeling uncomfortable and chronically in pain. She's exhausted and hungry and emotional. It's a scary time for me if I don't feed her regularly!"
Ashton W. – "I was extremely exhausted. I found out my iron level was really low, I had no energy what so ever. Baby A is 2lbs 5 oz and baby B is 2 lbs 10 oz."
Dad's Thoughts
By the time Mom reaches 27 weeks pregnant with twins, you should be well on your way to preparing any other children for their arrival. This includes making your own plans for how you'll juggle the twins and a toddler (or other children).
Get Weekly Twin Pregnancy Updates
Still wondering how to prepare for your twins? I cover specific things you should know and prepare for in my Dad's Guide to Twins book. Learn more about the book here.
Previous: 26 Weeks | Next: 28 Weeks
View entire Twin Pregnancy Week by Week
Sources: When You're Expecting Twins, Triplets, or Quads: Proven Guidelines for a Healthy Multiple Pregnancy by Dr. Barbara Luke and Tamara Eberlein and Babycenter's Average fetal length and weight chart