Here's what to expect when you are 30 weeks pregnant with twins:
Fetal Development
By 30 weeks in the twin pregnancy your twins are each nearly 16″ (40 cm) long from head to foot. They will each average the following measurements:
Head circumference: 11.5″ (285mm)
Abdominal Circumference: 10″ (256mm)
Femur Length: 2.2″ (56mm)
Each baby is about the size of a large cabbage.
Get Weekly Twin Pregnancy Updates
What to Expect at 30 Weeks Pregnant with Twins
Typical weight gain for Mom at this point is about one pound per week (0.6kg).
Total weight gain for the twin pregnancy so far will average between 32 to 48 pounds (14.5 to 21.8kg).
Pictures and Video
Here's an ultrasound video of what you might see at 30 weeks pregnant with twins:

Belly picture at 30 weeks: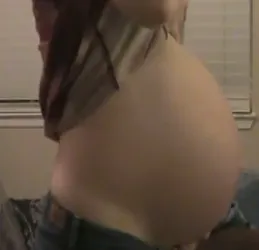 If Your Twins Were Born This Week
Your twins are early preterm and the odds of survival are better than weeks past. However, twins born during the 30th week still risk major medical complications. They could spend weeks, if not months, in the NICU. Twins born this week average a hospital stay of about 36 days.
For example, Diane S. had her twins born ten weeks early and they spent 42 days in the NICU.
Get Weekly Twin Pregnancy Updates
What to Prepare This Week
When Mom is 30 weeks pregnant with twins, it is a great time to recruit your friends to help with your twins. Many people will say something like "if you need any help, just let me know." Now is your time to line those people up to do specific tasks for you when the twins arrive.
Your Fellow Parents at 30 Weeks Pregnant with Twins
Holly B. – "Been tired and laying on my side isn't so comfy anymore. Getting another crib and carseats this week. Their room I think is ready, but will we ever be ready for these blessings?!"
Christina C. – "30 weeks 6 days along. This week I bought 2 used Fisher price infant to toddler portable rockers with mobiles for the house for only $36 total ($16 each)."
Demetrius I. – "The nursery is done. Time to break the car seats out of the box soon."
András N. – "Mum is doing fine. No pain, bit of tiredness. Babies room is ready and we did not want to know if they are boys or girls. They are not identical though so anything can happen!"
Shauna P. – "I'm 30 weeks with twin boys, and it's getting rough! Rib separation is painful, but hanging in there. Still finishing the babies room too!!"
Kellie R. – "During our last doctor's visit I was told I'm measuring at full term if I were having a single child."
Allison S. – "I still get motion sickness only when riding as passenger. Twins are growing on track and all tests normal, so we are happy and thankful. I found out I have gestational diabetes and was worried at first since I eat healthy and never had an issue. But apparently it's more common with twin pregnancy since they share a placenta making it more insulin resistant. I monitor my glucose best I can though."
Dad's Thoughts
By the time Mom reaches 30 weeks pregnant with twins, you'll have talked a lot with your wife about the twin delivery. Remember that every twin birth experience is unique. So no matter your plans or the stories you've heard from others, be prepared for variations and surprises.
Get Weekly Twin Pregnancy Updates
Still wondering how to prepare for your twins? I cover specific things you should know and prepare for in my Dad's Guide to Twins book. Learn more about the book here.
Previous: 29 Weeks | Next: 31 Weeks
View entire Twin Pregnancy Week by Week
Sources: When You're Expecting Twins, Triplets, or Quads: Proven Guidelines for a Healthy Multiple Pregnancy by Dr. Barbara Luke and Tamara Eberlein and Babycenter's Average fetal length and weight chart