Here's what to expect when you are 32 weeks pregnant with twins:
Fetal Development
By 32 weeks in the twin pregnancy your twins each weigh about 4 lbs (1.8kg) and are 16″ (40 cm) long. They average the following measurements:
Head circumference: 12″ (303mm) about the size of a large orange
Abdominal Circumference: 11″ (283mm)
Femur Length: 2.4″ (62mm)
Each baby is about the size of a Napa cabbage or jicama.
Learn more about your twins' progress: Twins fetal development at 32 weeks pregnant.
Get Weekly Twin Pregnancy Updates
What to Expect
Typical weight gain for Mom at this point is about one pound per week (0.6kg).
Total weight gain for the twin pregnancy so far will average between 34 to 50 pounds (15.4 to 22.7kg).
Pictures and Video
Here's an ultrasound video of what you might see at 32 weeks pregnant with twins (this is actually one from 31 weeks):

Belly picture at 32 weeks: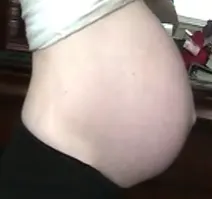 If Your Twins Were Born This Week
Your twins are early preterm and the odds of survival are better than weeks past. Twins born during the 32nd week still risk medical complications but their prospects are good. Twins born this week average a hospital stay (including the NICU) of about 20 days.
Here are a few examples from your fellow twin parents:
Marcelle A. mentions that her twins were in the NICU for longer than she ever expected. "They were born at 32 weeks 5 days, weighing 2.8 and 3.4 pounds. One was in the NICU for 56 days and the other for 86. They struggled with normal issues – breathing on their own, eating on their own, and gaining weight. There weren't any other serious issues thank goodness. It was such a difficult time!"
T.Z. gave birth to twins at 32 weeks and they spent 5 weeks in NICU.
Amber M.'s twins were born at 32 weeks weighing 4lb 1oz and 4lb 6oz. They spent 47 and 49 days in NICU respectively.
Get Weekly Twin Pregnancy Updates
What to Prepare This Week
When Mom is 32 weeks pregnant with twins, discuss with your wife how you'll keep your relationship strong after the twins are born. Your twins will require almost all of your time and energy. If you don't plan for this, your marriage will suffer.
Your Fellow Parents at 32 Weeks Pregnant with Twins
Lindsay C. – "32 weeks 3 days! Just tired! Luckily. My hips hurt at night pretty bad but I'd say I'm doing really well for twins and my boys are twos weeks ahead on weight they're huge lol. Hang in there!!! We are almost to the end."
Kara I. – "I am dying. So ready for these babies to come!"
Pow – "32 weeks twins are 5 pounds and I feel handicapped."
Ashley B. – "32+4 weeks, hoping to make it 38 weeks. I'm extra tired from not sleeping well."
Dad's Thoughts
By the time Mom reaches 32 weeks pregnant with twins, you're thinking ahead to the delivery. With a possible c-section on the horizon, you need to consider how you'll do in the operating room. Will you have a queasy stomach? Or will you be just fine? Your wife and twins are the focus in the hospital, so make sure you don't end up needing medical care too.
Get Weekly Twin Pregnancy Updates
Still wondering how to prepare for your twins? I cover specific things you should know and prepare for in my Dad's Guide to Twins book. Learn more about the book here.
Previous: 31 Weeks | Next: 33 Weeks
View entire Twin Pregnancy Week by Week
Sources: When You're Expecting Twins, Triplets, or Quads: Proven Guidelines for a Healthy Multiple Pregnancy by Dr. Barbara Luke and Tamara Eberlein and Babycenter's Average fetal length and weight chart