Here's what to expect when you are 33 weeks pregnant with twins:
Twins Fetal Development
By 33 weeks in the twin pregnancy each of your twins is over 17″ (44 cm) from head to foot. Each will average the following:
Head circumference: 12.25″ (311 mm)
Abdominal Circumference: 11.5″ (292 mm)
Femur Bone Length (about from the waist to knee): 2.45″ (62 mm)
Each baby is about the size of a pineapple.
Get Weekly Twin Pregnancy Updates
What to Expect
Typical weight gain for Mom at this point is about one pound per week (0.6kg).
(NOTE: Still expecting?
Get weekly updates on your twin pregnancy here.)
33 Weeks Pregnant with Twins Symptoms
By the 33rd week, Mom may be experiencing some of these symptoms:
hot flashes and overheating
swollen feet and legs
back and side aches
heartburn
full bladder and frequent bathroom visits
shortness of breath
Pictures and Video
Here's an ultrasound video of what you might see at 33 weeks pregnant with twins (this video is actually for 34 weeks):

Belly picture at 33 weeks: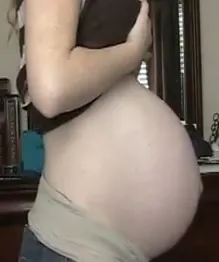 If Your Twins Were Born This Week
Your twins are late preterm and the odds of survival are very good. They are in good company as many twins are born during this period. Twins born at 33 weeks have an increased risk of permanent health issues but generally speaking are healthy. Twins born this week average a hospital stay (including the NICU) of about 20 days.
Get Weekly Twin Pregnancy Updates
What to Prepare This Week
When Mom is 33 weeks pregnant with twins, it is a great time to install your twin car seats in your vehicle. You don't want to wait until the last minute and it will be fun to see them in the backseat as you get in and out of the car. It will foreshadow your life to come and help you visualize your twins as part of your daily life.
Your Fellow Parents at 33 Weeks Pregnant with Twins
Jon P. – "Wife and I finished getting the 'go bag' packed this week. Just put in in order for a few things at Target because….'winter is coming'!"
Kim S.- "We just sold our house! Have to be moved out soon. We are just flying by the seat of our pants haha!"
Holly B. – "33 wks and 4 days… don't want to complain because we are excited for these 2! But tired and uncomfortable, and some contractions."
Christina C. – "Just ordered baby mobiles for the cribs. The last thing for their room."
Rebecca H. – "This last month is going to be the end of me. My two year old can smell my weakness."
Ruvarashe T. – "This week was terrible. I can't sleep and it seems like my womb is really heavy. I can't wait to go for the c section."
Kellie R. – "Mom was doing pretty good until a couple days ago. Then I was admitted to the hospital for high blood pressure and protein in my urine."
Dad's Thoughts
By the time Mom reaches 33 weeks pregnant with twins, she is physically miserable. She can't get comfortable, has trouble sleeping, and can't find relief. Do what you can to ease her burden and tend to her in the weeks that are yet to come.
Get Weekly Twin Pregnancy Updates
Still wondering how to prepare for your twins? I cover specific things you should know and prepare for in my Dad's Guide to Twins book. Learn more about the book here.
Previous: 32 Weeks | Next: 34 Weeks
View entire Twin Pregnancy Week by Week
Sources: When You're Expecting Twins, Triplets, or Quads: Proven Guidelines for a Healthy Multiple Pregnancy by Dr. Barbara Luke and Tamara Eberlein and Babycenter's Average fetal length and weight chart