Here's what to expect when you are 34 weeks pregnant with twins: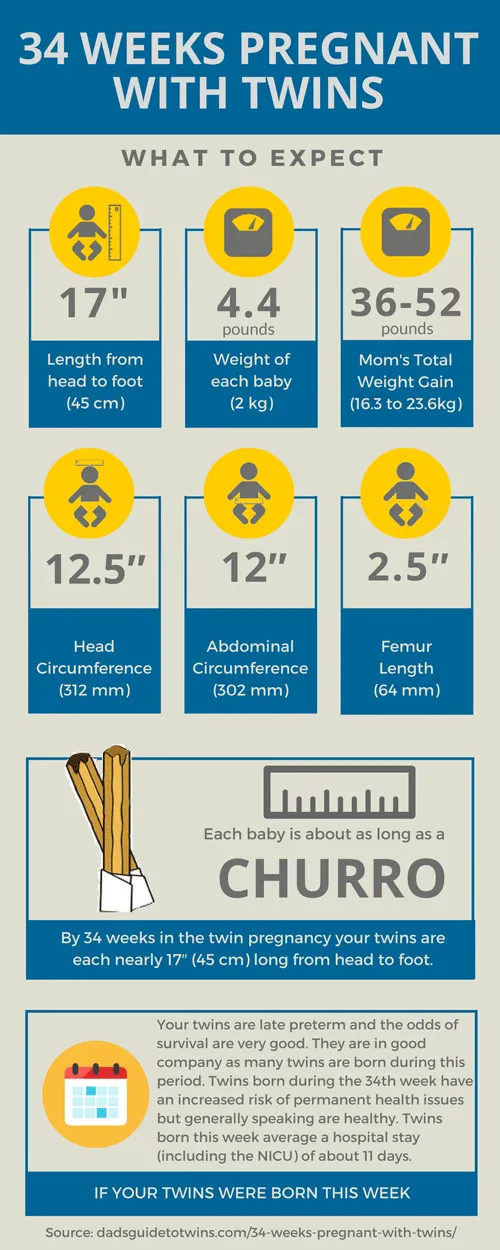 Fetal Development
By 34 weeks in the twin pregnancy your twins are almost 17″ (45 cm) in length from head to foot. Each baby averages the following:
Head circumference: 12.5″ (312mm)
Abdominal Circumference: 12″ (302mm)
Femur Bone Length (from waist to knee): 2.5″ (64mm) which is about the height of a US dollar bill
Each baby is about the size of a cantaloupe.
Get Weekly Twin Pregnancy Updates
What to Expect
Typical weight gain for Mom at this point is about one pound per week (0.6kg).
Total weight gain for the twin pregnancy so far will average between 36 to 52 pounds (16.3 to 23.6kg).
For more details on Mom's health, see:
Mom & Baby at 34 Weeks Pregnant
Pictures and Video
Here's an ultrasound video of what you might see at 34 weeks pregnant with twins:

Belly picture at 34 weeks: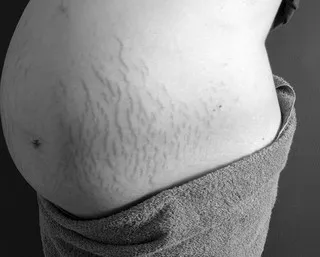 Picture by Jenn Raynes
If Your Twins Were Born This Week
Your twins are late preterm and the odds of survival are very good. They are in good company as many twins are born during this period. Twins born during the 34th week have an increased risk of permanent health issues but generally speaking are healthy. Twins born this week average a hospital stay (including the NICU) of about 11 days.
Get Weekly Twin Pregnancy Updates
What to Prepare This Week
When Mom is 34 weeks pregnant with twins, it is a great time to pack your bag for the hospital if you haven't already. Remember to take supplies for Mom, the twins, and Dad.
Your Fellow Parents at 34 Weeks Pregnant with Twins
Jennifer E. – "34 weeks and extremely uncomfortable. Looking forward to meeting them hopefully soon."
Dad's Thoughts
By the time Mom reaches 34 weeks pregnant with twins, you are not sure if you are mentally ready for twins. Nevertheless, they are on their way! Enjoy the quiet moments you have now since life will get turned upside down when the twins arrive.
Get Weekly Twin Pregnancy Updates
Still wondering how to prepare for your twins? I cover specific things you should know and prepare for in my Dad's Guide to Twins book. Learn more about the book here.
Previous: 33 Weeks | Next: 35 Weeks
View entire Twin Pregnancy Week by Week
Further Reading