Here's what to expect when you are 35 weeks pregnant with twins:
Fetal Development
By 35 weeks in the twin pregnancy each of your twins will average about 18″ (46 cm) long and have the following measurements:
Head circumference: 12.75″ (324 mm)
Abdominal Circumference: 12.4″ (315 mm)
Femur Bone Length (about from the waist to knee): 2.6″ (66 mm)
Each baby is about the size of a honeydew melon.
Get Weekly Twin Pregnancy Updates
What to Expect
Typical weight gain for Mom at this point is about one pound per week (0.6kg).
Pictures and Video
Here's an ultrasound video of what you might see at 35 weeks pregnant with twins (this video is from 36 weeks):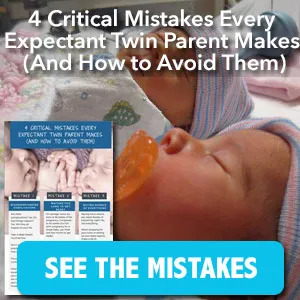 Belly picture at 35 weeks: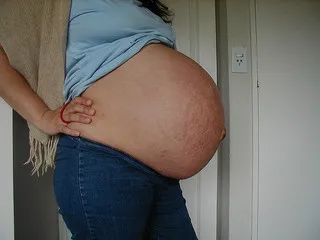 Picture by Vir argentina
If Your Twins Were Born This Week
Your twins are late preterm and the odds of survival are very good. They are in good company as many twins are born during this period. Twins born during the 35th week have an increased risk of permanent health issues but generally speaking are healthy. Twins born this week average a hospital stay (including the NICU) of about 11 days.
Here's what your fellow twin families experienced:
Will K.'s twins were born just under 35 weeks. One daughter stayed 18 days and the other for 20 days in the NICU.
Zach J.'s twins were born at 35 weeks and weighed 5 lb 4 oz and 5 lb 6 oz. They went home 4 days later.
Amanda C. had twins born at 35 (+2) weeks. They spent exactly 3 weeks in the NICU. At birth, Lily (first out) weighed 3lb, 12oz, and Grace was 4.5lb. Cesarean delivery, no complications. The first 2 weeks they had a feeding tube, but they were so small, a bottle feed was too exhausting. The last week was pretty much just waiting for them to meet the minimum weight requirement for a car seat.
Emery H.'s twins were born under 6 pounds each at 35 weeks and went home on day 4.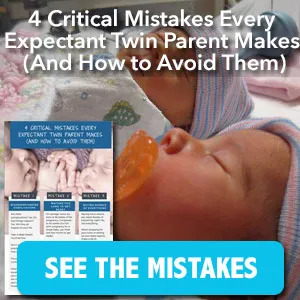 Get Weekly Twin Pregnancy Updates
What to Prepare This Week
When Mom is 35 weeks pregnant with twins, the babies could come at any time. Finalize any remaining preparations you still have left on your "to do" list. Talk to your twins' future pediatrician to finalize his or her involvement when the twins are born and during your time in the hospital.
Your Fellow Parents at 35 Weeks Pregnant with Twins
Cinda G. – "35 weeks and 2 days. Feeling miserable, but trying to make the best of it. Have battled with Symphysis Pubis Dysfunction (SPD) for around two months now. Still potentially have 10-16 days left (which we all know translates to 10-16 weeks in twin/multiple years) unless they decide to make their appearance sooner. Still alive and kicking though and babies are extremely healthy as far as we can tell by our multiple Biophysical Profiles!"
Amy D. – "In the hospital and will be there until babies come."
Stephen S. – "My wife is 35 weeks and says she is done with it. Went to Maternal fetal medicine this morning and they said no C-section (breech Baby A) until 38 weeks. Then her OBGYN said that is what would have to happen even though he originally said 36 to 37 weeks. I know my wife is super uncomfortable and she has been a trooper. I just try to remind her the longer they are in the healthier they will be."
Vallen T. – "Babies weighing over 6 pounds each! I feel like a wreck! Went into early labor Thursday but put on bedrest and it has slowed down."
Stephanie A. – "Really starting to feel ready, but the babies seem to want to stay a while longer."
Amy R. – "On semi bed rest for the next few weeks just to make sure our babes bake away nicely for a bit longer."
Beth P.- "I don't feel well. I have gestational diabetes and have to give myself insulin shots 3x a day. I have preeclampsia and my blood pressure is raising. The hospital gave me shots at 33.3 weeks for the babies lungs because we were/are prepared for them to come any day."
Diana U. – "I can't wait to be done with the delivery (because of the physical strain), but at the same time I know that my belly is the best incubator."
Joy M. – "I feel strong, though weak some times. But generally I'm strong! The babies move almost all day all night. I don't think they sleep!"
Dad's Thoughts
By the time my wife reached 35 weeks pregnant with twins, I was anxious and sick to my stomach with anticipation. I knew that life with twins would be harder than I could imagine (I was right) but I still couldn't grasp what I was in for.
Get Weekly Twin Pregnancy Updates
Previous: 34 Weeks | Next: 36 Weeks
View entire Twin Pregnancy Week by Week
Sources: When You're Expecting Twins, Triplets, or Quads: Proven Guidelines for a Healthy Multiple Pregnancy by Dr. Barbara Luke and Tamara Eberlein and Babycenter's Average fetal length and weight chart