Here's what to expect when you are 36 weeks pregnant with twins: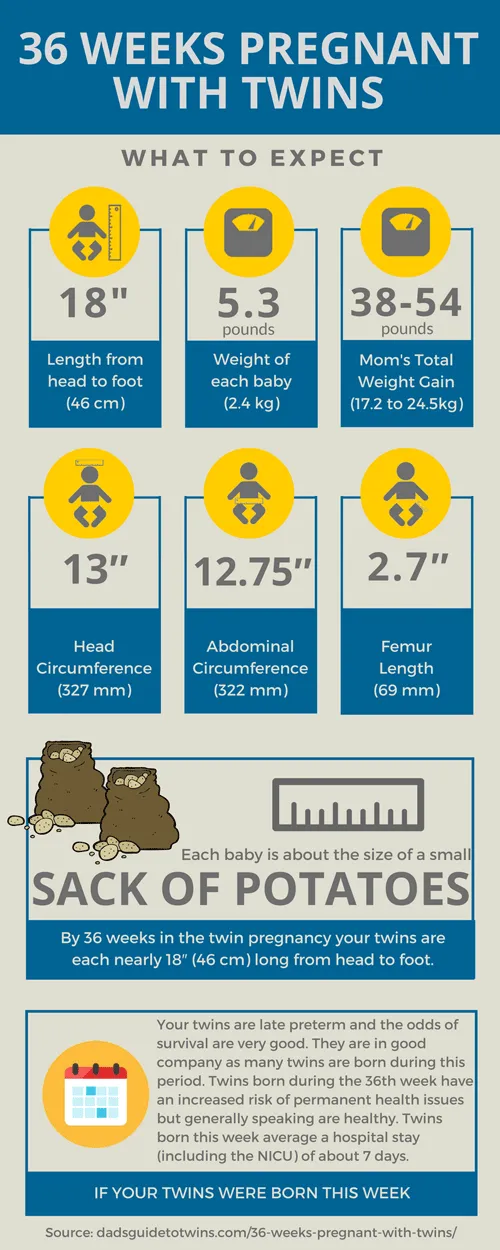 Fetal Development
By 36 weeks in the twin pregnancy your twins are each 5 pounds (2.3 kg) and 18″ (46 cm) long. They each average the following measurements:
Head circumference: 13″ (327mm) about the size of a grapefruit
Abdominal Circumference: 12.75″ (322mm)
Femur Bone Length (from waist to knee): 2.7″ (69mm) which is about the height of a US dollar bill
Each baby is about the size of a canary melon.
Your twins are almost ready for their arrival. Here's how they are progressing inside Mom: Twins fetal development at 36 weeks pregnant.
Get Weekly Twin Pregnancy Updates
What to Expect
Typical weight gain for Mom at this point is about one pound per week (0.6kg).
Total weight gain for the twin pregnancy so far will average between 38 to 54 pounds (17.2 to 24.5kg).
Allison S – "I am 35 weeks and 6 days, so almost to 36 weeks! Our identical twin girls weigh a half a pound difference so far. I've been experiencing small contractions, but feel okay overall and they both have good heart rates."
Pictures and Video
Here's an ultrasound video of what you might see at 36 weeks pregnant with twins:

Belly picture at 36 weeks:

If Your Twins Were Born This Week
Your twins are late preterm and the odds of survival are very good. They are in good company as many twins are born during this period. Twins born during the 36th week have an increased risk of permanent health issues but generally speaking are healthy. Twins born this week average a hospital stay (including the NICU) of about 7 days.
Here's what happened with a few twin families:
Cameron F.'s twins were born at 36 weeks and weighed 4lbs 15oz and 5lbs 3oz. No NICU for them.
Samantha S. says her twins were born at 36 weeks 6 days with no NICU time required.
Get Weekly Twin Pregnancy Updates
What to Prepare This Week
When Mom is 36 weeks pregnant with twins, you should have discussed how your twins will arrive with your doctor. If you're planning on a c-section, make sure you have a date and time scheduled with the hospital when your doctor is working.
Dad's Thoughts
By the time Mom reaches 36 weeks pregnant with twins, you hopefully feel as ready as you're going to be. Your anxiety will turn to suspense as you await signs of labor or a scheduled c-section date.
Get Weekly Twin Pregnancy Updates
Previous: 35 Weeks | Next: 37 Weeks
View entire Twin Pregnancy Week by Week
Sources: When You're Expecting Twins, Triplets, or Quads: Proven Guidelines for a Healthy Multiple Pregnancy by Dr. Barbara Luke and Tamara Eberlein and Babycenter's Average fetal length and weight chart