Here's what to expect when you are 38 weeks pregnant with twins:
Fetal Development
By 38 weeks in the twin pregnancy your twins each average the following measurements:
Head circumference: 13.5″ (331mm)
Abdominal Circumference: 13.25″ (336mm)
Femur Length: 2.8″ (70mm)
What to Expect
Typical weight gain for Mom at this point is about one pound per week (0.6kg).
Total weight gain for the twin pregnancy so far will average between 40 to 56 pounds (18.1 to 25.4kg).
Get Weekly Twin Pregnancy Updates
Belly Picture
Belly picture at 38 weeks: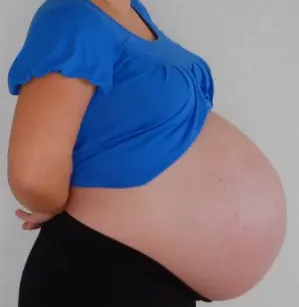 If Your Twins Were Born This Week
Your twins are considered to term. They are typically born as healthy as their singleton counterparts. Twins born during the 38th week average a hospital stay of about 5 days and normally go home with Mom when she leaves the hospital.
Tracy M. recounts that her "sweet girls arrived healthy at 38 weeks on the scheduled c-section! I thank God for keeping me calm & keeping my babies in my belly full term, though having lots of contractions starting at 32 weeks!"
Patrick B. had twins born at 38 weeks. His son was 7lbs 8oz and his daughter 6lbs 5oz. No NICU time.
What to Prepare This Week
Frankly, when Mom is 38 weeks pregnant with twins, the time to prepare is past. Wrap up any remaining items you need to handle today. By this time, you should be able to schedule a c-section if needed or desired. Talk to your doctor about the medical reasons for letting the pregnancy go beyond 38 weeks.
Dad's Thoughts
By the time Mom reaches 38 weeks pregnant with twins, you have hopefully put everything you need into place for the twins' arrival. If you've been diligent over the last several months, you might have a few days rest before the twins arrive.
Get Weekly Twin Pregnancy Updates
Previous: 37 Weeks | Next: 39 Weeks
View entire Twin Pregnancy Week by Week
Sources: When You're Expecting Twins, Triplets, or Quads: Proven Guidelines for a Healthy Multiple Pregnancy by Dr. Barbara Luke and Tamara Eberlein and Babycenter's Average fetal length and weight chart