The Christmas season is a joyful time to spend with your family, including your twins.
Just how ready you need to be will be based on how old your twins are when December 25th rolls around.
If your twins are one year old or younger, then don't worry too much. Just like with their first twin birthday, you can probably keep things simple and they (and you) will still be happy.
As your twins get older, you'll need to adjust your strategies if you hope to keep a smile on your face. This applies not only to gift-giving, but to navigating the rituals and traditions of the season, as well.
Variety
Try to give your twins different gifts and not just all two of a kind. This will help them learn to share and they'll even get double mileage out of the same toy.
Ask Them
If your twins are talking, ask them what presents they would like for Christmas. Don't worry, this isn't cheating. If they tell you, you can get it. Doesn't that equal less stress right there?
After purchases have been made, you can employ one of two tactics: let them forget what they told you they wanted until they happily open it on Christmas morning, or get them excited about it by dropping comments to the effect of "Wouldn't it be so much fun is you received such-n-such?"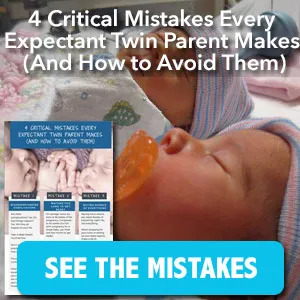 Distract
If one or both of the twins are unhappy during a family dinner, party, or present opening time, don't forget the powerful distraction technique. Pull out the hidden toy, fun song, favorite candy, or piggy back ride and quickly watch your little one get back in the groove.
This is particularly effective when you can use the positive peer pressure aspect of twins. Get one twin doing the right thing, and the other is more likely to follow.
Play
Enjoy your time with your twins. Perhaps you've been working too much and haven't been able to see or play with them as much as you'd like. Enjoy your time off at Christmas to get to know each of your twin's individual personalities and quirks.
Flexibility
Your normal routine will be interrupted during Christmas travels and celebrations. This will put stress on you and your twins. Roll with the punches and be flexible with what you will and won't do.
Get Some Rest
Twins are a lot of energy and work, even if they are past the newborn stages. They will wear you out. If you've been isolated from them during the week due to work or other commitments, you will get a full blast of twin-induced tiredness over the holiday. Make sure you get some rest to compensate.
Patience
Two little people with minds of their own will not always want to go along with your plans. Be patient. Take a deep breath and try again and your Christmas with twins will be great.
Picture by -Manda