Here's what to expect when you are 8 weeks pregnant with twins:
Fetal Development
By 8 weeks in the twin pregnancy each of your twins will be about 0.63 inches long (16 mm) from crown to rump. Each baby is about the size of a kidney bean.
Your twins' yoke sacs are disappearing and they are starting to draw nutrients from the placenta via the umbilical cord.
Get Weekly Twin Pregnancy Updates
What to Expect
Typical weight gain for Mom at this point is about one pound per week.
Some symptoms at this stage include lower back pain, food cravings or aversions, and morning sickness.
Pictures and Video
Here's an ultrasound video of what you might see at 8 weeks pregnant with twins:

Belly Picture at 8 weeks: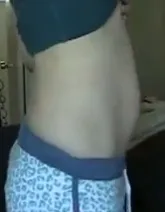 Dad's Thoughts
You're still so early in the pregnancy that your biggest concern is avoiding miscarriage. This is only overshadowed by your shock that you will be having twins. Do what you can to help your wife ease the morning sickness that she's been having for weeks.
Get Weekly Twin Pregnancy Updates
Previous: 7 Weeks | Next: 9 Weeks
View entire Twin Pregnancy Week by Week
Sources: When You're Expecting Twins, Triplets, or Quads: Proven Guidelines for a Healthy Multiple Pregnancy by Dr. Barbara Luke and Tamara Eberlein and Babycenter's Average fetal length and weight chart