Here's what to expect when you are 9 weeks pregnant with twins:
Fetal Development
By 9 weeks in the twin pregnancy each of your twins will be about 0.9 inches long (23 mm) from crown to rump. Each baby is about the size of a grape.
Your twins' heads are still disproportionately large compared to their bodies but their eyes are now moving from the side of the head to the front.
Get Weekly Twin Pregnancy Updates
What to Expect
Typical weight gain for Mom at this point is about one pound per week.
Total weight gain for the twin pregnancy so far will average between 9 to 14 pounds (4 to 6.4 kg).
Mom may have headaches, mood swings, and continuing morning sickness.
From Your Fellow Twin Parents
Sharie R. – "Mom has felt very tired this week. I can't wait until I can find out the gender, this is so exciting!"
Cybele E – "I feel so weak and tired and irritated all the time I can't even eat."
Pictures and Video
Here's an ultrasound video of what you might see at 9 weeks pregnant with twins:

Belly Picture at 9 weeks: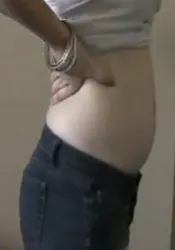 Dad's Thoughts
Recent ultrasounds will likely have reassured you that things are on track with your twins. As the first trimester comes to a close, you should be making your list of preparations you'll need to put in place before your twins arrive.
Get Weekly Twin Pregnancy Updates
Previous: 8 Weeks | Next: 10 Weeks
View entire Twin Pregnancy Week by Week
Sources: When You're Expecting Twins, Triplets, or Quads: Proven Guidelines for a Healthy Multiple Pregnancy by Dr. Barbara Luke and Tamara Eberlein and Babycenter's Average fetal length and weight chart