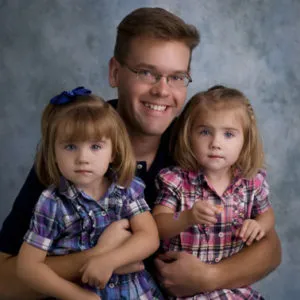 Hi, my name is Joe Rawlinson! I'm the dad behind Dad's Guide to Twins where I've helped thousands of twin parents like you prepare for and raise twins through helpful articles, books, podcasts, videos, and more since 2009.
You have concerns about finances, healthy babies (and mom), physically caring for two, getting twins to sleep, and more. You're not alone. You'll find answers to your most pressing questions here on this site.
How this all got started…
I have beautiful identical twin daughters. Although they are adorable now, when we found out we were having twins, I was terrified. When our twin girls were born, they joined two brothers and we instantly had four kids ages three and younger.
When we were expecting our twins, I didn't really find any good resources for fathers of twins. There was lots of information for moms and general info about twins. However, there wasn't much just for dads.
Thus this site was born so you can learn from my experiences and thrive as a father of twins. You'll find practical tips, tricks, and advice on preparing for and raising your twins.
Get more help for your twin journey…
In addition to this site, I've written two popular books for fathers of twins:
Expecting twins? Here's how to prepare for their arrival.
Thrive as a father of twins through the early (and challenging) years.
Listen to Twin Tips
Do you listen to podcasts? You'll enjoy the Dad's Guide to Twins podcast.
Stay Up To Date
You can find me on:
Want more?
Have Joe speak at your twins or parents of multiples event.
Click a link below to get the help you need to thrive wherever you are on your twin journey:
Working with Dad's Guide to Twins
Are you a brand or business wishing to work together? Dad's Guide to Twins is a brand and PR friendly site.