The logistics of caring for twins aren't easy. One question I get a lot is: What activities do I do with both twins together and which do I do with only one twin at a time?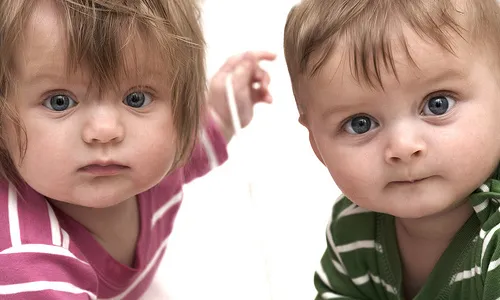 The secret is that many activities can be done with both or separately. Generally speaking, taking care of one twin at a time is the easiest. This is what you can fall back to when everything is crazy: Take care of one twin at a time.
Activities to Do Together
Reading books
Going for a walk
Baths (once they are old enough to sit up)
Feeding so they are on the same schedule
Activities to Do One on One
Getting dressed
Potty training
Teaching how to eat
Infant baths
Diaper changes (one parent shouldn't try to simultaneously change two diapers)
Split Attentions
You will split your attention between both twins all the time. This is the reality of twins. You may all be engaged in the same activity but must take turns of who gets direct parental attention.
When we started our twins on solid foods, we'd have both in their booster seats in the kitchen. My wife or I would sit in front of them to feed them. We'd feed a spoon of food to one girl, then to the other, and continue this rotation – back and forth. So technically in the moment of feeding we were doing that activity one on one. However, it was also essentially all done at the same time with both twins. Just a hint on this one, you need to be quick because your twins might not be too patient while watching the sibling get food as they wait.
Family Activities
You'll do many things together with your twins. But in these cases, they are things you'd do together as a family anyway, regardless of whether you had twins or just several children. Any type of family outing would fall into this bucket: errands, dinner, vacation, church, going to the park, etc.
Try, Try Again
If you wonder if something will work with both twins, try it. You'll quickly learn what needs to be done one at a time and what can be done together. This will change over time so don't give up on something forever just because it didn't work once. As your twins age, they will be more self-sufficient and you'll be able to do more things together.
Picture by _Dinkel_