As a parent of twins, you are hungry for advice on what you need to do to get ready for your twins.
A great resource for you are other parents of twins. They, of course, have already experienced what you are about to discover.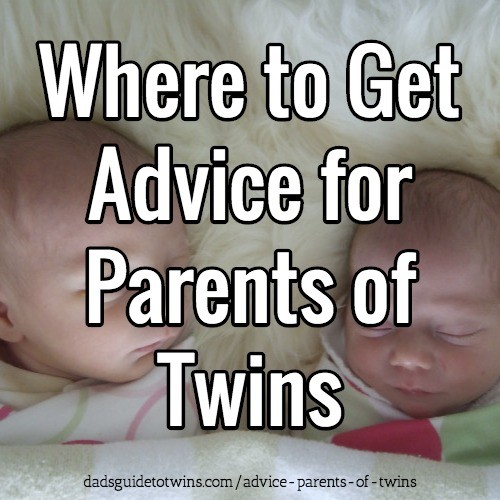 Remember that you'll get tons of advice from others. Be sure to consider each piece of twin advice and see how it applies to you.
When you want to proactively seek out advice from other parents of twins, here are some places to look:
Online Forums
There are many online forums for parents of multiples and twins. Here are two I've found very useful:
Babycenter has forums for parents of twins and even subgroups for those with due dates in certain months. You'll find mostly mothers here but even dads can extract some tips on how to keep Mom happy and some insights into the twin pregnancy.
Twinstuff community offers quick answers to your questions and even has a subforum for dads (although it isn't frequently updated).
There are even online courses like Babies in Belly to guide you in your preparations.
Facebook
If you prefer to have your twin info streaming to you via Facebook, check out these groups about twins:
Bonus: You can find the Dad's Guide to Twins on Facebook too!
Twitter
Are you on Twitter? There is a great weekly tradition called Twin Tuesday. Search on Twitter for #twintuesday and you'll find links and info to help with your twin adventure.
I'm on Twitter, too: https://twitter.com/#!/twindadjoe
Podcasts
If you enjoy listening to podcasts, here are some that will help you be a better parent:
Positive Parenting by author and parenting expert Armin Brott offers weekly insights and guidance on parenting.
My Dad's Guide to Twins Podcast covers topics specific to having and raising twins from a Dad's perspective.
Local Twin Parents
Local parents of twins can be a great source for information and support.
If you haven't heard of a local group already, search Google for: "parents of multiples [your city name]" or "moms of multiples [your city name]".
For example, you'll find groups like the Northwest Association of Mothers of Twins Clubs wherever you live. (Here's a complete list of clubs in the U.S.)
Many cities at least have a "MOM" group for mothers of multiples. Many monthly meetings of groups like these aren't just for moms — dads can come too.
Books by Parents of Twins
Some parents of twins distill their experience and advice into books. This is exactly what I did with my Dad's Guide to Twins book.
If you'd also like other tips for parents of twins, check out Raising Twins: From Pregnancy to Preschool by Shelly Vaziri Flais. Her book offers very practical advice and tips on preparing for your twins and taking care of them after birth.
I also like Twins 101 by Khanh-Van Le-Bucklin, a pediatrician and mother of twins.
There are tons of resources to help you get advice from other parents of twins. All you need to do is ask!
Picture by Chalky Lives