This question is from a parent who says, "I have 1-year-old twin boys. What would you recommend for feeding them? I used to feed my boys in their walkers. But since now they're walking they throw fits to get out of their chairs. And when they throw fits, they don't eat. So it's hard to figure out ways to get them to sit down and eat. We are on a tight budget. And it does seem expensive to get two high chairs. What would you recommend?"
Our boys came one at time before our twin girls were born. We did have a high chair for each of our singleton boys. But when the twins came along, we changed course. We changed our minds about how we wanted to go about feeding our twins in the kitchen. We found that booster seats were a lot more affordable than full-blown high chairs. So as I've mentioned before, you might want to try that first.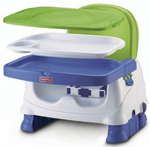 Try booster seats just strapped on to your regular kitchen chairs in your kitchen. We liked the Fisher Price booster seats. You can probably get two of these for under $50. And that's not $50 each. That's under $50 for two. We used these Fisher Price booster seats and they were great for our twins.
We put down a towel on the kitchen chair. We strapped down the booster seat. And we never needed a high chair for our infant girls. It worked great because they used the same space as a regular kitchen chair later on. It was a lot easier to clean up and didn't use up a lot of space on the floor of the kitchen.
This topic was originally addressed on the Dad's Guide to Twins Podcast Episode 76: Affordable Feeding Chairs, Finding Out Gender, Talking Interruptions.