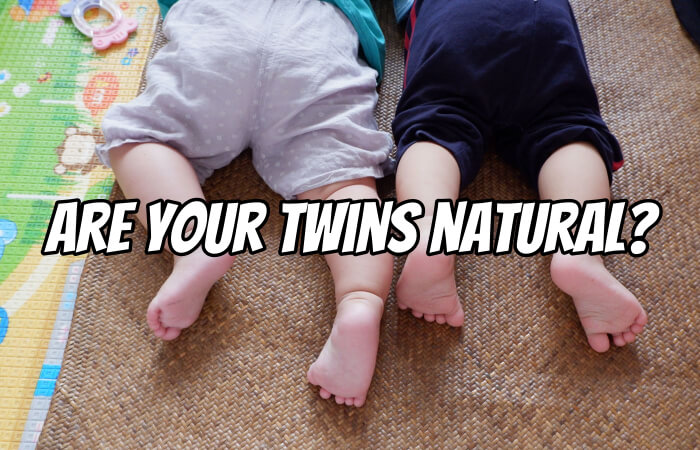 Something about having twins seems to attract the most probing and personal questions from complete strangers.
One particularly grating question is: "are they natural?"
This question is loaded with implied questions like:
"Did you use fertility drugs?" or "Did you have In Vitro Fertilization (IVF)?"
Your struggles to have children (or lack there of) are really not the business of every random stranger that sees you at the store with your double stroller full of twins.
Despite your need for privacy and what would seem to be a reasonable and common sense thing of not asking such personal questions, you will get these and other similar questions.
People that ask you these questions don't have twins. Deep down they hope they never have twins and therefore want to make sure you did something special to get twins. If you confirm you had IVF or some other medically assisted conception, it somehow reduces their "risk" of having twins.
Regardless of how your twins started their journey to birth and joining your family, you can answer this question from strangers and move on with your life.
In some ways the "are your twins natural?" question is a little easier to answer:
"Yes, they are natural. What's an artificial twin anyway?"
"No, actually they are cyborgs/robots/aliens/mutants."
"No, they are supernatural!"
When asked directly about IVF or fertility drugs, your first reaction may just be disgust at the direct and personal question. You might just want to change the subject or redirect the conversation with these answers:
"Yes!"
"No!"
"You'll never know"
"What do you think?"
"Can't you tell by looking at them?"
"Aren't they wonderful?"
"My babies are miracles from God"
"Have a nice day." – then walk away
When you've been questioned: "are they natural?", how did you respond? Leave a comment and share your experience.
P.S. If you just want to wear a shirt to answer the question for you, pick up one at TwinTShirtCompany.com.