Podcast: Download
Which baby monitor should you get for your twins? What is the best baby monitor for twins?
Here I'll share recommendations from several twin parents so you can get an idea of what would be best for your family and household situation.
Types of Baby Monitors for Twins
First, let's talk about the broad categories of baby monitors:
Audio-Only dedicated baby monitors – you can hear your baby but you can't see them.
Video dedicated baby monitors – you can pull the video feed up on your phone or on a device and see what's going on in your twins' room.
Security Cameras used as baby monitors – these are cameras that aren't necessarily baby monitor cameras, but maybe they are home security cameras or things of that nature that you can dual purpose for a baby monitor in your twins' nursery.
Twin Must-Haves for Baby Monitors
It is important to note that there aren't twin-specific baby monitors. However, there are many that can help you keep tabs on both your twins at the same time.
Be sure to look for baby monitors that:
have two cameras or you can position one camera so you see both twins
if they are video baby monitors, can you do a split screen and see both twins at once?
are you able to mount them on the wall or out of reach of the twins' cribs?
Do you need two monitors for twins? Not necessarily if you can see and or hear both twins with one device.
Can you use two baby monitors in the same house? You'll need to double check the specifications of your baby monitors. If you get two identical baby monitors there is a chance of inference between the devices. However, some baby monitors have ways to adjust the channel or frequency used so avoid interference problems. If your twins are in the same room, you should be fine with just one twin baby monitor.
Do you need a twin baby monitor with app so you can monitor your twins on your phone? Make sure you double check the specifications of the monitors to see if they have a mobile app compatible with your mobile device or if you can only monitor the babies within the same house on a dedicated viewing or listening device.
Twin Baby Monitors that Twin Parents Use
Let's talk about some recommendations from twin parents to give you some ideas of what might work for you and your twins.
What twin baby monitor is best? Here's what your fellow twin parents have to say via the Dad's Guide to Twins Facebook page:
Owlets for Twins
Can I use owlet with twins? Yes, you can. Darrell says that they used outlets for their twins.
Audio-Only Baby Monitors
Mark says that they had just one audio-only monitor for both sets of their twins. Like this one from VTech or this alternative.
Pat says they had an audio-only baby monitor and that their twins shared a room so they just needed one monitor.
Sarah says they had a single sound-only monitor. It was plugged in close enough to both cribs that they can hear if either baby cried.
Video Baby Monitors
Joe says the Vava baby monitor for twins (like this one) with split screens and it was hands down excellent with great night vision.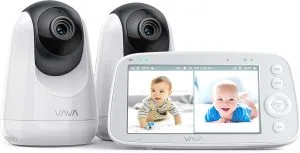 Matt says they used a Motorola twin baby monitor with two cameras – one over each crib.
Security Cameras as Baby Monitors
Melissa said they used the Wyze cam, which is a security camera. They used to have two Wyze cams in the nursery but then they moved their twins to toddler beds and they could get away with just one camera because they could see the whole room.
Brett used the Amazon blink camera.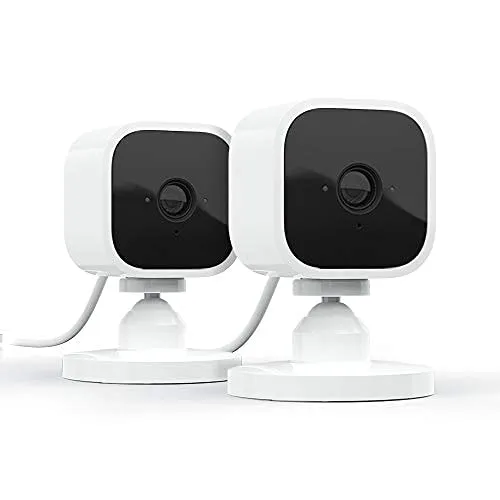 Daniel says that they used the Arlo as a baby camera.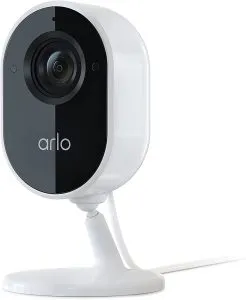 Get Creative for Monitoring Your Twins
Mark says they didn't even have baby monitors. They just checked it on the babies like clockwork to make sure that everything was going smoothly.
Richie used Old iPhones with the Bibino app.
Getting the Right Baby Monitor for Your Twins
As you can see, there are tons of options for keeping an eye (or ear) on your twins. You can choose a do-it-yourself option like using a couple of old phones to create your own baby monitor system, a security camera like a Wyze, a dedicated baby monitor via video or audio, and more.
The only important thing is that you can monitor your twins in a way that works for you. That way, you can help in case something goes wrong or if nap time is over.
What We Used to Monitor Our Twin Girls
We didn't even use a baby monitor unless we were traveling. Our twins shared a room that was right next door to our master bedroom. So whenever they started to cry, or move around, we could actually hear them and we can go in and take care of them.
We'd leave our doors open at night so we could make sure that we could hear and take care of them as needed.
But when we'd travel, say we'd go visit grandma's house and the twins were in a whole different part of the house, that's when we set up an audio-only baby monitor so we could more easily check on the babies.
If your twins will likewise share a room, they'll be fine with a single baby monitor in the room that will pick up any and all of the noises that are happening in that room.
Having just a baby monitor that picks up sounds might be good enough to keep track of your kiddos. You'll find that your twins each make distinct and different types of cries and sounds that you'll learn over time and you'll be able to recognize which baby needs your attention just from a sound.
Now, two monitors would be helpful if you have twins are in separate rooms in a separate parts of the house. For example, maybe they're upstairs and your master suite is downstairs or they're on the other side of the house.
Otherwise, I feel that less is probably going to be more for you. You can generally hear a baby crying when the house is quiet. This is particularly true late at night when they're hungry and they really want to get your attention.
I personally feel that video is a little overrated because you have to take the time to actually look at the monitor to check their status. Whereas audio is a much more efficient alert that lets you carry on with whatever you're doing in the house and will let you know. It will interrupt you when something is happening. You'll hear your baby or babies crying.
Lots of Options to Stay in Your Budget
You don't have to break the bank financially to set up a baby monitor to keep an eye on your twins. Some of these options can be had for $20-$40 or all the way up to dedicated baby monitoring systems with multiple cameras and equipment that can be several hundred dollars.
There's usually going to be something that's going to fit your budget to help you in setting up your twins nursery.
If you have your heart set on a fancy baby monitor for twins but don't have the cash, put it on your twin baby registry!
How about you? Do you already have your eyes on a certain baby monitor? If you already have one for your twins, what are you using? Let us know in the comments.