You've likely heard the adage, always leave a sleeping baby lie. Or wait, is that a sleeping dog? Either way, when your babies are sleeping you don't want to move them.
When your twins are infants, they sleep a lot! When you take them to their frequent doctor visits or running errands, it can be a pain to take them in and out of their car seats. Ideally, you'd keep them in their infant car seats. However, that can get really heavy, especially if you are by yourself.
This is why we loved the Baby Trend Snap-n-Go Double Inline Stroller for our twin girls. We could leave the babies in their car seats and simply move the car seat to the stroller and be on our way. In fact, this was one of the best purchases we made for our twins.
However, even the best of products have some flaws. One of the big issues we had is that eventually our girls got too big and could kick each other. This shortened the time we were able to actually use the stroller. The good news is that the newest version of the Snap-n-Go stroller has stadium seating to prevent this very issue!
Our friends at Twiniversity put together a video showing some of the features and how to use the latest model of this Baby Trend Universal Double Snap-N-Go Stroller Frame:
Advantages and Pros of the Baby Trend Universal Double Snap-N-Go Stroller Frame
Compatible with many car seats like Graco Snugride, Chicco Key Fit 30, Evenflo Discovery, and more (see car seat compatibility list below)
When folded up, it will roll on two wheels which makes it easy to maneuver for storage
Folds up super easy
Has a roomy storage basket to haul diaper bags and your supplies
Stroller is light weight and easy to maneuver
When folded, it lays flat which fits well in your car trunk
Handle is the perfect width to strap a diaper bag onto it
You can steer it one handed while easily handling sharp turns.
Solid construction without the bulk of other strollers
Pushes easily and rolls smoothly on most surfaces
Has built-in parent tray and cup holders
Features stadium style seating so both kids have a good view
Braking is solid and simple to use
Disadvantages and Cons of the Baby Trend Double Snap-N-Go Stroller
May not work with some car seats despite "universal" label (double check car seat compatibility list below)
Be careful with the clip that holds the folded stroller together, it might get caught in the folding process and broken
Stroller is a little bulky (very long)
Straps that hold car seats in place might get snagged in the frame as you fold/unfold the stroller
Storage space a bit difficult to reach when both infants are in their car seats
Doesn't go over bumps well – best on smoother surfaces
How long can you use the Snap-N-Go Double Stroller?
The Double Snap-N-Go Stroller is rated up to 80 pounds which includes babies, car seats, and any gear you are hauling.
Baby Trend Snap-N-Go Double Stroller Compatible Car Seats
Before you run off and buy this stroller, make sure that your car seats are compatible.
Here is a list from the manufacturer (Baby Trend) of compatible car seats for the Snap-N-Go Double Stroller:
Baby Trend – Flex-Loc, EZ Flex-Loc, Inertia
Graco – Snugride, Snugride 32
Chicco – Keyfit 30
Evenflo – Discovery
Safety 1st – On Board Air 35, Designer
Aprica – A30
Combi – Shuttle 33
Summer – Prodigy
Preg Perego – SIP, SIP 30/30
UppaBaby Infant Car Seat
Britax – Companion, Chaperone
Maxi-Cosi – Mico
If your car seat isn't on the list, don't worry. This stroller is a "universal" stroller and should accommodate most infant car seats. However, to be sure, I'd recommend you visit a local store like Buy Buy Baby or a smaller boutique shop to test drive your car seats before getting the stroller.
Baby Trend Snap-N-Go In Action
Some of your fellow twin parents in the Dad's Guide to Twins community share there experiences too:
"My wife and I LOVE our snap-n-go. Very easy to use and very handy. It folds down nice and small. So easy to use and bring with us." – Erik Sjoberg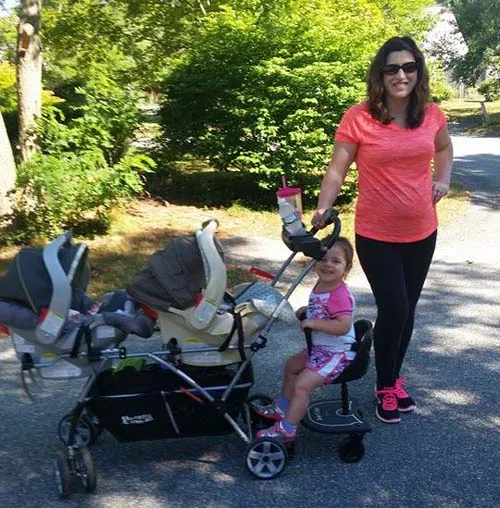 "I like the Snap n' Go. It is a bit long and slightly awkward to turn, but it gets us from here to there. It also accommodates the fun toddler seat we had to get!" – Angela Mercer
(Note: Angela's picture above is of the original stroller model without stadium seating. Plus the Englacha 2-In-1 Junior X Rider toddler attachment is sold separately.)
Overall Impression and Recommendation
We loved our Snap-N-Go double inline stroller. It was easy to use and a lifesaver for moving our infant twins around. It handles very easily even when loaded down with twins and gear. A bonus is that you become quite the spectacle out in public with your twins' adoring fans moving you to get a closer look. Fortunately, the long and sleek design make it easy to weave through crowds and make your escape.
Where to Buy
You can get the Baby Trend Universal Double Snap-N-Go Stroller Frame on Amazon.com. If you'd like to support Dad's Guide to Twins, please purchase through this link as I will receive a small commission if you buy (at no additional cost to you).