One of the things you can do as a father of twins that will have long-lasting impact on your family is to be involved. When you are present and involved as a father, good things happen.
An involved father can coach and mentor his kids. An involved father can love and support their mother. As an involved father, you can bond with your twins.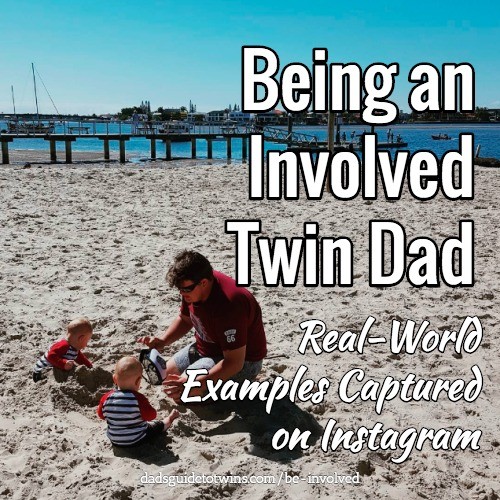 Being involved as a father has many different forms. Here are several great examples from real twin dads showing how you can be involved and active in your children's lives:
Dance with Your Twins
Who can resist a dance with your sweethearts? I hope that you'll have fun dancing with your twins when they are young and that the tradition continues for years to come. Plus if you dance with your twins around the house, you'll be the coolest and funnest dad around.
Go Boating with Your Twins
Ever been boating? Take the twins! They will enjoy the wind in their hair and the fun on the water.
Watch Television Together with Your Twins
Watching TV with your children goes through phases. The first phase is when they are very young. Here you get to decide what you watch together. The second phase is when they start to show an interest and preference on what is on the television. Yes, you can enjoy your children's favorite shows. In fact, you might find it more interesting to watch their reaction to what they see.
Make Your Twins Laugh
Cause and effect is a beautiful thing. You can and should make your twins laugh. Be silly. Tell jokes. Tickle them. Have fun and enjoy the laughs.
Travel with Your Twins
Broaden your twins' horizons by traveling with them. Yes, traveling with twins can be challenging. However, you'll get out of the house and create memories that will last a long time. Plus the best stories are often a result of traveling with kids and the chaos that brings.
Go for a Stroll with Your Twins
Yes, walking is great exercise. But that isn't he only reason you should head out with the twins in tow. You can talk with them. You can explain what is going on outside their home and help them see new things in the world all around them.
Do the Laundry with Your Twins
Involving your twins with chores around the house is essential to helping them form a good work ethic. Yes, things might take a bit longer but think of it as a teaching moment.
Go to the Beach with Your Twins
One of the funnest places to go with children is the beach. It is a haven of discovery and new adventure.
Build a Sand Castle with Your Twins
While at the beach (or in the sandbox of your local park), build a sand castle with your twins.
(NOTE: Still expecting?
Get weekly updates on your twin pregnancy here.)
Go Swimming with Your Twins
Kids love the water. My kids could swim at the pool all day, every day if we let them. Teach your twins to swim and enjoy time in the water with them.
Swing with the Twins
Want to see your twins smile? Put them in a swing and go! Your arms will tire of pushing them before they tire of swinging.
Go Shopping with the Twins
Getting out of the house is a challenge with twins. You can help by going shopping as a family or taking the twins so Mom can get a rest.
Carry Your Twins Around
Nothing makes you feel more like a man than carrying both your twins at the same time. Whether in your arms or via babywearing, it is a great feeling. Plus you'll get lots of stares and comments from onlookers.
Cuddle with Your Twins
Your cuddles, hugs, and presence are very soothing to your twins. Enjoy those moments together.
Eat Together
Your twins will always want to share whatever you are eating. Echos of "me too" or "I want some" will ring through your house.
Feed the Ducks Together
There is something about animals that kids just love. Find a nearby pond or lake, take some bread, and go feed the ducks. Your twins will favor you with giggles and excited squeals.
Do Tummy Time With Your Twins
Tummy time is essential to helping your twins develop muscle strength and mobility. Get down on the floor with them and encourage them in their efforts.
Carry Your Twins
Haul around one infant twin carrier in each arm and you'll have super strong arm muscles in no time.
Play with Your Twins
You should have quality and meaningful play time with your kids everyday. Laugh, play, and have a great time.
Go On Walks with Your Twins
Once your twins are old enough to walk on their own, you can leave the stroller at home and walk with them on your adventures.
Teach Your Twins to Work
If you don't teach your twins to work, no one will. Lead by example and involve them around the house, farm, office, or workplace as time and circumstances allow.
Read to Your Twins
Develop a love of learning and reading in your twins by regularly reading to them every day. Even from an early age, they can appreciate your voice and the stories you tell.
Get Creative with Your Twins' Transportation
Who says you have to walk everywhere? Get creative with how you get your twins from point A to point B. Strollers, walking, babywearing, etc. are all options to consider.
Take a Nap
After you've done all of the above, you deserve a break: