When you have twins, it can be stressful to leave the house with your babies and all their diapers, supplies, and gear. Since it would be quite the hassle to lug around two different diaper bags, you'll want the best diaper bag for twins that there is!
The Best Diaper Bag for Twins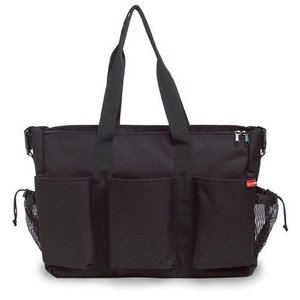 With twins you don't really need two of everything. This is especially true with diaper bags. For example, you don't need two diaper bags! You just need a diaper bag that is designed to hold enough items to accommodate twin babies. If you are looking for the best diaper bag for twins, the Skip Hop Duo Double Deluxe Diaper Bag is praised by many parents as the best diaper bag for twins.
The Skip Hop Duo Double Deluxe Diaper Bag is designed for double the children. If you are looking for a diaper bag that is spacious and will fit all the diapers, bottles, extra clothes and formula you need, this is surely the diaper bag for you.
Product Features:
1. The dimensions of this diaper bag are 18″ x 4.2″ x 13.5″ which is one of the largest diaper bags you can find.
2. This diaper bag has a weight of 2.1 pounds. That may sound like a lot, but for a diaper bag this large, it's a good weight.
3. The bag comes with a very long shoulder strap so you can carry it easily and comfortably on your shoulder no matter how tall or short you are. You can carry it either by the shoulder strap or by the handles as a tote, whichever is easiest and most comfortable for you.
4. This is the best diaper bag for twins because it has a total of 16 pockets! This means you can keep the bag organized very easily and it will hold anything that you need. There are plenty of pockets on the outside of the bag for easy access when you quickly need to grab a bottle or pacifier.
5. The diaper bag comes with magnetic closures throughout the bag which means your items will stay in the diaper bag securely. It can take more time when you have to deal with a lot of different zippers and things can also get stuck in zippers, causing them to break. Magnetic closures are simple because they automatically snap back closed and are very simple to pull apart to open and grab what you need.
6. This diaper bag even has a fastening system which allows you to easily attach it to the handlebars of a double baby stroller, which can be very convenient.
7. You'll also find that it comes with a cushioned changing pad, which is great to have when you are in a public area and you need to change your babies' diapers.
This diaper bag is surely the best diaper bag for twins because it's bigger than the typical bag and is very simple to use. This diaper bag should cost you less than $60. You won't need to worry about the bag ripping and tearing because it's made with quality and durable materials.
Dads and Diaper Bags
I'm sad that we didn't have this diaper bag when our twins were babies. The practicality and neutral black color make it a great match for Dad to sling over his shoulder when out with the twins.
You can get your Skip Hop Duo Double Deluxe on Amazon.com.
Have you already purchased a diaper bag for your twins? What did you get and how has it worked for you?