If you choose to bottle feed your twin babies, you'll face the challenge of making bottles in the middle of the night.
The middle of the night feeds are generally heralded when one of your babies starts crying. This jars you from your slumber and pulls you out of your warm bed. You may even find yourself sitting on the edge of your bed trying to figure out what is the next thing you are supposed to do.
Because of the bewildered stupor that you will likely experience during night feedings, you need to have everything ready before you go to bed.
Before you go to bed, lay out burp cloths, bottles, formula, and a container of water.
When your babies start crying for food, they want food and they want it now. The longer you take, the louder the cries and the more frustrated you will get, especially when you're sleepy.
We'd have bottles and nipples ready on the kitchen counter next to the formula canister and the feeding log. The bottles would have the water already pre-measured and ready to add the formula to. Dump, shake, and go!
For water, we filled up a Tupperware-style water bottle with a flip top lid and kept it on the counter. The big advantage of this was that the bottle was always room temperature and ready for immediately feeding the baby. No, your babies don't need warm milk, so save yourself some time and frustration by going the room temperature route.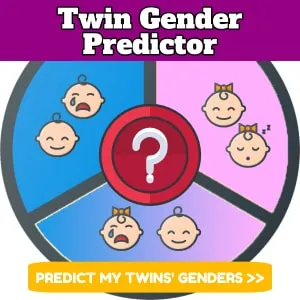 As with many things when it comes to twins, you'll find yourself making choices–and sacrifices–constantly. In this case, you'll probably weigh the benefits of being organized (especially if it doesn't come naturally) against a few minutes of extra sleep. Do yourself a favor, prepare when you are awake so you can sleep walk through the process quickly and thus quickly return to bed.
Need more help sleep training your twins? Check out this step-by-step guide to sleep training twins from fellow parent of twins, Nina Garcia:
Further Reading