Podcast: Download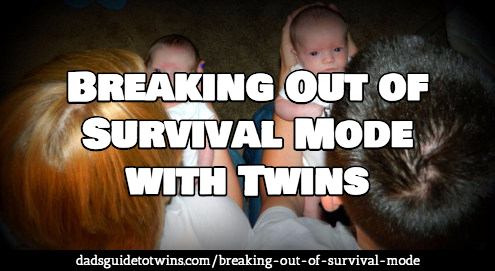 If you listen to most people (even me), you'll get the impression that the first several months with twins forces you into survival mode.
The demands of your attention and energy with infant twins is overwhelming at times. So much so that you feel like you can't break out from the daily grind of caring for twins.
So how do you break out of survival mode with twins?
Is it even possible? Yes, here's how…
Time
If you give any challenge enough time it will pass. The crazy first year with twins will pass and you'll slowly morph into a new routine and more manageable routine.
(NOTE: Still expecting?
Get weekly updates on your twin pregnancy here.)
As your twins age, they will become more and more self sufficient. This means you get longer to sleep and spend less time doing everything for your kids.
Get Out of the House
Too often, with infants in particular, you are stuck at home and feel like you are trapped doing 24/7 child care.
The reality is that little kids are relatively easy to haul around. You load them into their car seats or twin stroller and go.
Take advantage of that mobility and get out of the house.
It could be as simple as a walk around your neighborhood.
Or head out to the grocery store. You'll not only get your errands done but be entertained by all the comments from complete strangers.
Schedule Time Away
Take a look at your schedule and figure out when you can get some solo time away.
If you pay attention, you'll notice a pattern in your twins' sleep time and routines. Take advantage of nap time to get away or focus on an activity that you'd like to do.
Remember that your wife also needs a break. Be aware that if you've been at the office all day, that could count as your time away and break from the kids.
Keep balance in your breaks so that both parents can enjoy them.
Connect With Your Spouse
Keeping your marriage strong is vital through the twin pregnancy and with the challenges of raising twins. You need to schedule time to spend with your wife.
This could be a date night where you leave the twins with a babysitter and head out for dinner and a movie.
It could be setting aside time to be together intimately so you don't go too long with out that physical connection.
Switch Tasks
Evaluate the types of things you are doing to take care of your twins. My guess is that you're in a rut of doing the same things over and over again.
The reality of caring for twins requires lots of repetition (feeding, diapers, sleeping, etc.).
However, you may even find yourself always caring for one of the twins while your wife cares for the other.
Trade-off which parent cares for each twin.
Switch which tasks each of you is doing. This will add spice and variety to your routine that will break up the drudgery.
Get Helpers
If you just can't seem to get a break or keep your head above water, it is just fine to ask for help.
This could be a nanny, au pair, babysitter, family member, friend, or even someone to mow your lawn.
If you have the money to hire some help, do it!
If you have willing friends and family, recruit them to help.
Count Your Blessings
Sometimes all it takes to realize things aren't all that bad is to count your blessings.
Take a few moments to journal your experience and you can then go back and see how far you've come.
Perspective is powerful in relieving the pains of the present.
Take a look back and see just how far you've come. Your twins are growing, they are doing better than last month.
You and your family are in a good routine. Things are working and they are getting better.
You can break out of survival mode and thrive as a father of twins.
I talk more about getting through the first years with twins in my book, the Dad's Guide to Raising Twins: How to Thrive as a Father of Twins. Check it out if you don't already have a copy.
Original photo by Bill & Vicki T