Today we've got a great question: "Will twins learn to ignore the other's cries or will it be an automatic family cry fest?"
As we were expecting twins, we had similar concerns, especially as they arrived and we realized that they do cry a lot as newborns. But we were surprised to find that our girls didn't really wake each other up. It didn't really bother them when the other was crying. Now there is an exception to that and that was when both of them were ready for feeding time. If one would wake up and be crying and the other would be hungry and wake up and realize, "Hey, maybe sister's on to something, I think it's time for food too," of course then they would both be crying together.
Most of the time they were able to sleep through each other's cries and didn't really seem to affect each other. This was even in the newborn phase when both of our girls were sharing a crib at the time. Even after we separated them into different cribs and they were in the same bedroom, they still did not seem to bother each other.
Keeping Twins from Disturbing One Another
If you are having trouble with your twins waking each other up or disturbing each other with their cries, you may want to consider separating them if necessary, particularly if you're trying to get them to sleep and they're crying and keeping the other from falling to sleep. We found that once our girls fell asleep, they were okay but sometimes they'd be able to keep each other up with their noise. So one thing you may want to try is putting them in different rooms to get them started sleeping, and you can always transfer them into their crib later when the time is right.
Another thing that you may look into is a white noise machine. While we didn't have one of these in our home, I've heard very positive things about helping your twins waking up, sleeping through interruptions and helping them not interfere with the other twin's sleep pattern.
Pay attention to your twins' schedules and their cycles. Typically they're going to go through a cycle where they feed and then they're going to have some kind of alert and activity time and then they're going to go down for sleep or a nap or for overnight. When they wake up, they're going to start all over again. Pay attention to where they are in the schedule in the cycle, so that when one of them cries and the other one cries, it may be time for you to take action to help them with something that they need, be it feeding, changing, or whatever.
Another thing to keep in mind is that you don't have to rush in right away when one of your twins is crying, being afraid that the other twin is going to wake up immediately and start crying as well. Give it a moment. See what happens. If your twin needs attention, you can go in and soothe that twin, take care of him or her, and then help the other twin if necessary as well.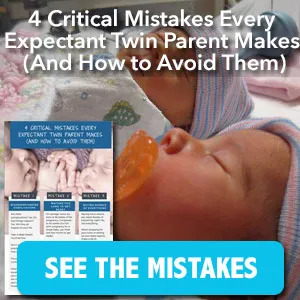 How Will Your Twins Behave?
If you're still waiting for your twins to arrive, you're probably not going to fully understand the magnitude of the cries and both twins crying at the same time until they arrive and you experience it firsthand. It's going to get really loud and you're going to think that there's no way that one baby's cries can not affect the other child. You're going to have to observe and see what actually happens with your twins.
If one of your babies is screaming at the top of her lungs, you may see her brother or sister lying there peacefully. No problem whatsoever. In other cases, you may see one trigger the other. As a parent, you need to be observant of what's happening with your twins and then you can adjust your habits, your patterns, or your schedule to help meet their individual needs.
If one of the twins starts crying, are all the twins going to start crying? Not necessarily. Pay attention and see what happens in your family.
(NOTE: Still expecting?
Get weekly updates on your twin pregnancy here.)
This topic was originally addressed on the Dad's Guide to Twins Podcast Episode 66: Crying Twins, Pace of Development, Infant Activities.
Need more help sleep training your twins? Check out this step-by-step guide to sleep training twins from fellow parent of twins, Nina Garcia: