When you bring your baby twins home, can you let them sleep in the same crib?
Absolutely. Should they share a crib? It depends…
At the hospital, the nurses had our twins together in the same bassinet. When we got home, we just continued this pattern. From their time in utero, each twin has constantly been with their sibling. Why not continue?
Do twins need their own crib? Current safe sleep recommendations for twins are that each twin has his or her own crib.
Let's look into some of the challenges of this recommendation for twin parents and what worked in our family when our girls were babies.
Sharing a Crib
When we brought our twin babies home, we already had two older boys (both under the age of 3). One of our sons was still in a crib. We knew we wanted to eventually move him to a big bed and then move his crib to our twins' nursery, so we only started with one crib in our twins' room.
From the day our girls came home from the hospital, they shared a crib.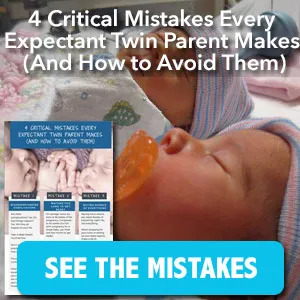 We found that our babies would actually turn towards each other when they were sleeping side by side in the same crib.
As newborns, your babies aren't going to move around much so where you put them is where they will stay. In the crib, this means that we could have both babies sleep together without them interfering with each other too much.
We'd swaddle each baby individually and then have another blanket swaddle them together. (Remember to not use bumper pads in the crib.)
Where Are Your Twins Sleeping?
Evaluate your home and your twins' sleeping arrangements. Is their room upstairs or in a far-off corner of the house?
Do you want the convenience of having your twins close to your master bedroom for nighttime care?
Current medical recommendations are that your babies sleep in the same room as you for the first year. With twins, the logistics of this can be quite challenging or even impossible. Do what you feel is best for your family.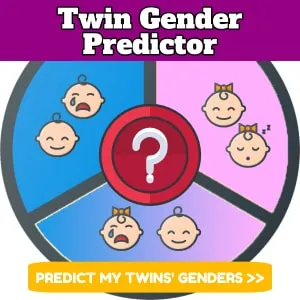 Clever baby gear like the Romp & Roost Playard or HALO Bassinest helps you fit two babies in the smaller space of your room when you don't have room for two cribs.
Spend Money Over Time
Do you need two cribs for twins? Yes, eventually you will.
Do you need to buy both right now? No.
Many twin parents are tight on cash and can only afford one crib at a time. If this is your situation,  you can space out the crib purchases over time so that you don't have a huge expense all at once. Or ask for cribs as baby shower gifts or from the grandparents!
(NOTE: Still expecting?
Get weekly updates on your twin pregnancy here.)
What about wiggly babies?
Eventually, your babies will start to wiggle and hit each other when they share are a crib. Don't freak out. They were doing this in the womb for months (just ask your wife). If it doesn't bother them, it shouldn't bother you.
When to Separate Twins in Crib
How long can twins stay in one crib?
We kept our girls in the same crib for several months until they started getting bigger and rotating around. We knew it was time to separate when were jarred from sleep because Twin A had put her foot in Twin B's head and Twin B was crying.
When that time arrived, we put two cribs in the same room, with one baby in each. The girls seemed to miss each other at first but would call out to each other via squawks or gurgles in a form of echolocation (think bats) to make sure their sister was near.
Hard to Sleep?
So you may ask: Don't they wake each other up if they sleep in the same room or crib? No, not necessarily. Typically one twin can sleep through the cries of the other. You'll even find one of your babies with arms or legs sprawled over the other with both twins sleeping contently.
Your Newborn Twins Sleeping Arrangements
As a twin parent, you have to balance current medical recommendations with the reality of your home situation. Space constraints, budget limitations, and your personal parenting preferences must all be balanced when coming up with a solution.
Our girls shared a crib just fine for several months. We've also heard of many other twin parents having success with this. On the other hand, remember that eventually, they will both need their own crib. If you can afford two cribs now and have space, start out with each twin in his or her own crib.
You'll find more details about twin sleeping arrangements and overcoming sleep challenges in Chapter Five of my book, the Dad's Guide to Raising Twins: How to Thrive as a Father of Twins.