There are many creative ways to announce a twin pregnancy. Since most of your friends and family won't be expecting the surprise news that you are having twins, you can have some fun when you announce you're expecting twins.
While you'll find many creative ways to announce a pregnancy by searching online, most are relevant to singleton babies.
Below is a collection of creative ways to announce your twin pregnancy, twin announcement ideas, and examples from real twin parents like you.
Check out how these twin parents announced their twin pregnancies and then I'll share what we did for our twin announcement.
Thing 1 and Thing 2 Twin Pregnancy Announcement
Nothing says double trouble more than Dr. Seuss' Thing 1 and Thing 2 from the Cat in the Hat book. Use text like "One baby is fun but [insert your name] is having two!"
Share the emotion with these twin baby announcement ideas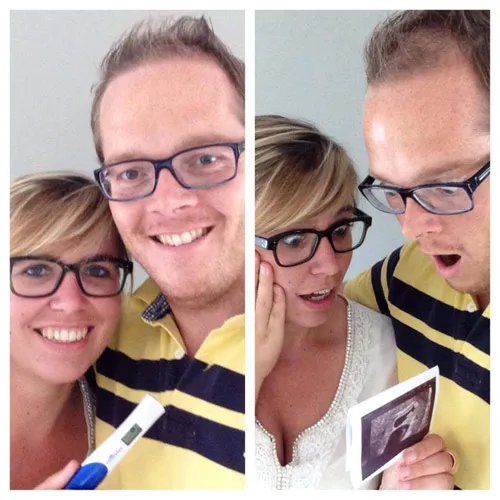 You were shocked when you found out about twins. Why not share that emotion with others? Capture a picture of you and your spouse and/or family looking shocked over the twin ultrasound.
Two In Custody Twin Baby Announcement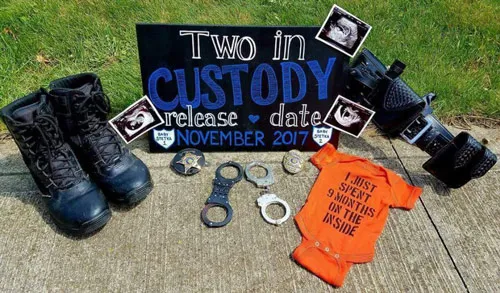 Try this police and jailbreaker twin announcement theme if you have law enforcement in your family or the props to pull it off.
Twin Math
Put your friends and family to the test with this twin math quiz. Take a picture of your spouse and any kids you already have. Add a plus sign, mom, an equals sign, and the number of the new size of your family. A picture like this makes a great twin pregnancy announcement Christmas card.
Copy and Paste
In addition to making cute onesies for your twins, use this copy and paste theme to announce your twins to the world. It is helpful to combine with an ultrasound picture to complete the surprise.
Financial Impact of Twins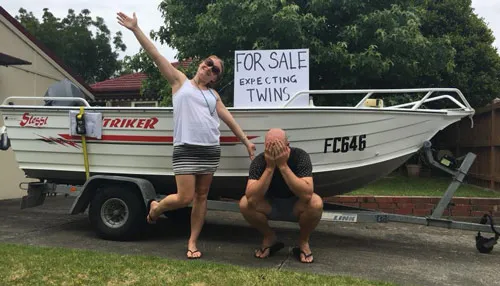 We all know the stress about paying for twins. Plus you'll have your hands full caring for them. As such, there won't be much time or money for hobbies (at least in the early months).
Hunting Party
Does Dad like to hunt? Grow your hunting party with this twin pregnancy announcement.
CrossFit Twins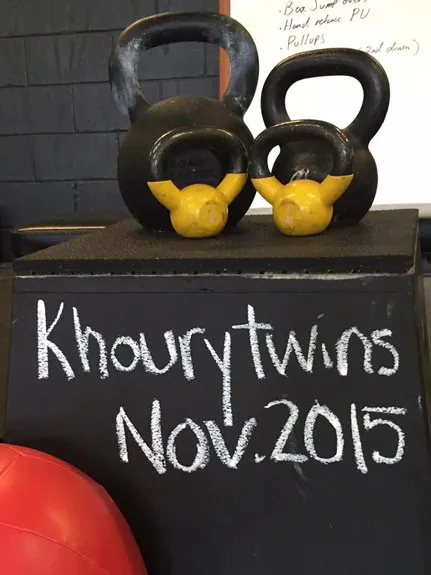 Are you and your spouse fit parents? Try this CrossFit inspired twin pregnancy announcement. Use Dad and Mom sized kettlebells with twin baby kettlebells.
Game of Life
Look at you and that lucky roll that got you twins! I bet you never thought you'd be having twins when you landed on that space in the game of Life when you were a kid. Haha! Now you're twinning like a pro.
Dogs and Cats Announcements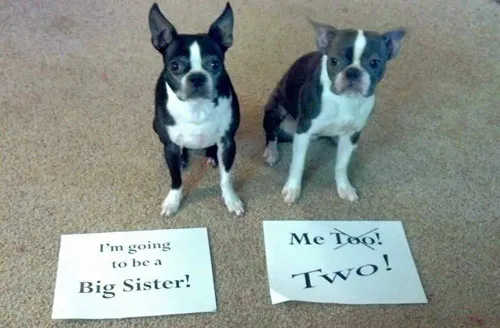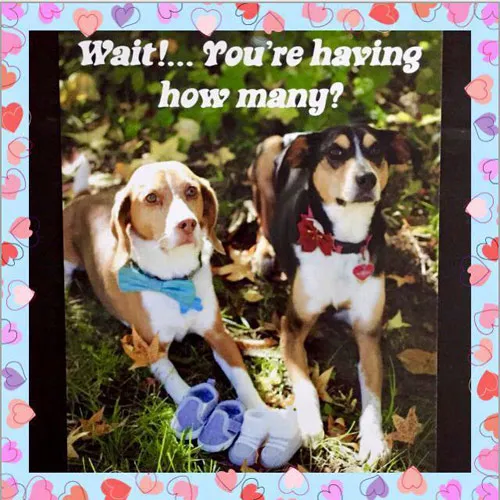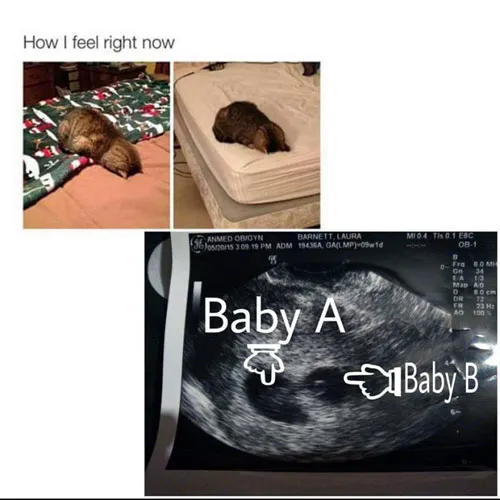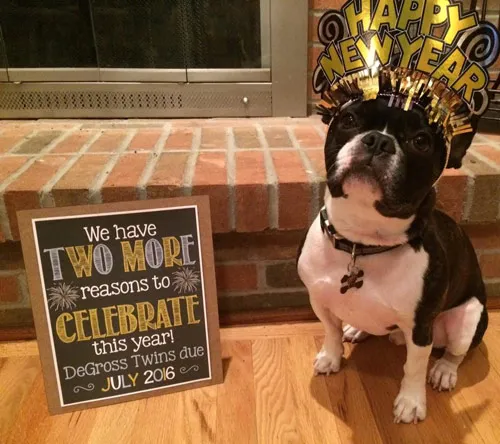 If you already have some furry friends in your family, have them announce the twin pregnancy. Bonus points if you can get your dogs or cats to have a fun, shocked, or disappointed look on their faces. Use signs to announce "I'm going to be a big sister/brother" and "Me too/two!"
Have Siblings Announce It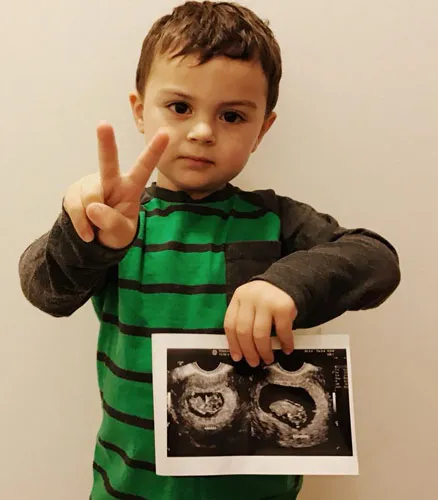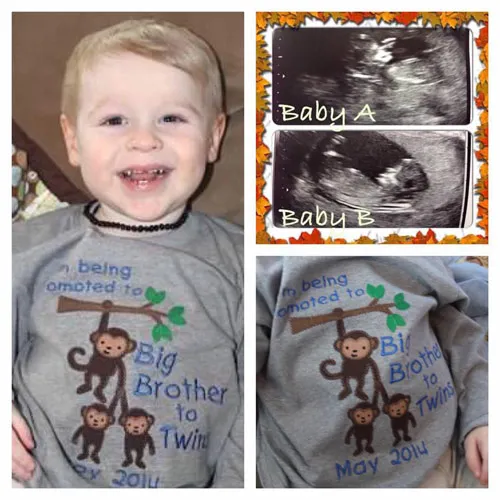 Dress up your other children and have them help you announce the twins to the world. This can be with custom t-shirts or other creative means like those above.
Family Picnic
Wax poetic and craft your twin announcement and then take a beautiful family picture. "Twice the blessing. Twice the fun. Two miracles instead of one."
Twins On Board
Do you know those classic "Baby on Board" signs that hang in car windows? Here's your chance to "twinify" that with a "Twins on Board" sign to announce your twins.
Movie Poster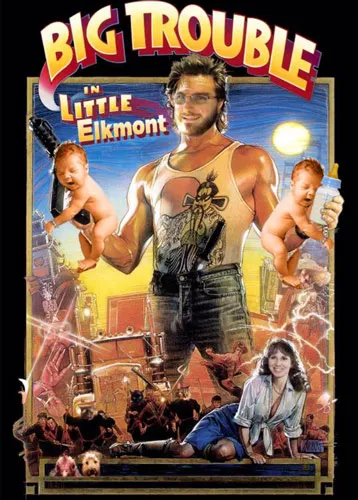 What is your favorite movie? Grab the movie poster from your favorite flick and customize it to announce your twins. Yes, you'll need a few Photoshop skills but the result is sure to be hilarious.
Twin Feet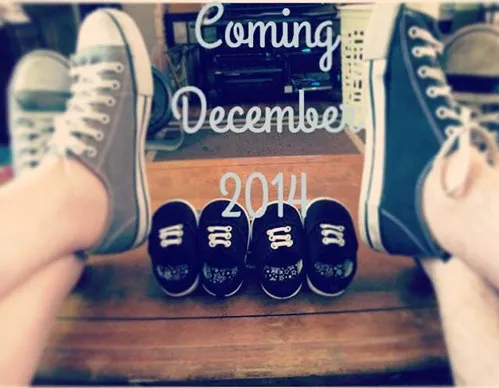 Who doesn't love kicking your feet up and relaxing? Since you won't be able to do that once the twins arrive, you might as well use it in your twin pregnancy announcement.
Football Fans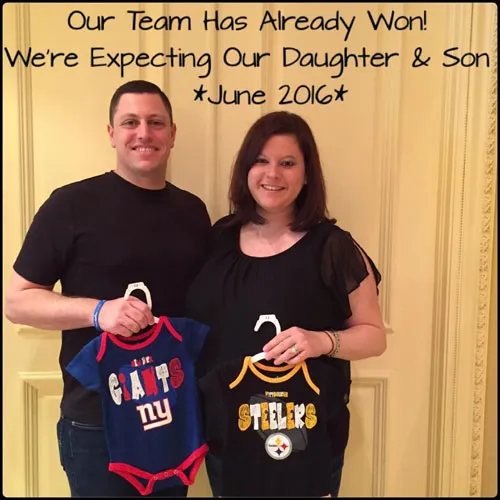 If you're big football fans in your house, use that to announce your twins pending arrival. This is really fun when you and your spouse are fans of different teams. Proclaim "Our team has already won!"
Fortune Cookies Hide the Twin Pregnancy Announcement to Family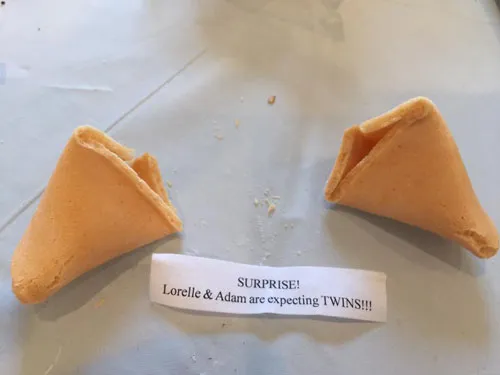 Everyone loves fortune cookies. Invite your friends over for dinner or a party and let them open these fortune cookies to announce your twin pregnancy.
Kitchen Twins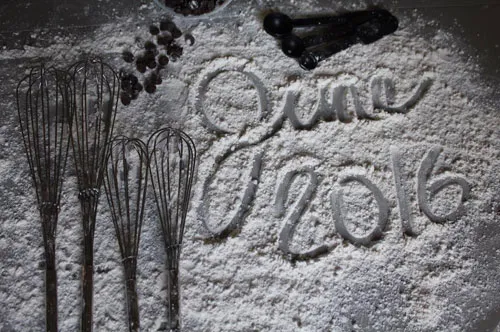 Love cooking? Use your kitchen and culinary supplies to cook up a unique twin pregnancy announcement.
Clone Wars
If you're a Star Wars fan like me, try announcing your pending Clone Wars. Better yet, grab one of these My Sons Are Clones or My Daughters Are Clones t-shirts to complete the announcement.
Children's Book
Use a book you already have (or buy one that will work) to announce your twin pregnancy.
Chalkboard Twin Pregnancy Announcements
Have a chalkboard? Make your twin announcement on that with creative and stylish letter designs. Twin pregnancy announcement poems often work very well on chalkboard-style announcements. Surround your sign with baby supplies and boom! You've got an announcement.
Candy Hearts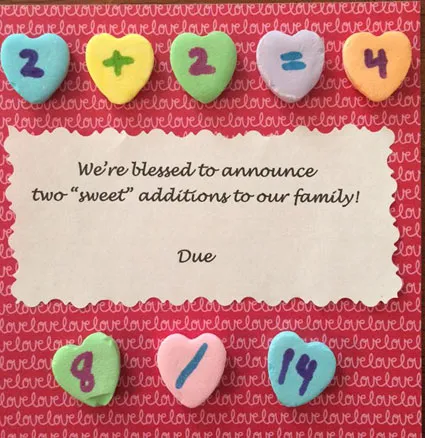 Candy hearts are plentiful around Valentine's Day. If your pregnancy is close to that date, you can make these fun twin pregnancy announcements. Your announcement can say "We're blessed to announce two sweet additions to our family."
Easter Egg
If you're finding out about twins around Easter (or they are due near Easter), use all those leftover eggs and decorations to your advantage in announcing your twins.
Bathroom Reaction (Funny Twin Announcement)
Why not share a twin announcement that really tells people how you felt when you got the news. This will do just that.
4 Feet and 2 Hearts for Cute Twin Pregnancy Announcements
Put a fun phrase together like "Our family is growing by 4 feet and 2 hearts". At first, people have to think about it and then will realize "oh, it's twins!" and that this is your surprise twin baby reveal.
Pumpkin Patch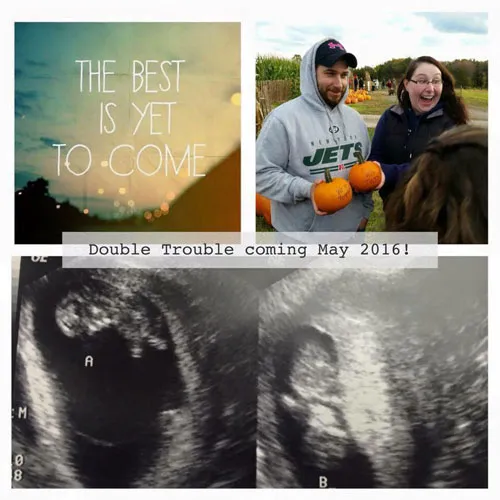 If the season is right, you can highlight your growing pumpkin patch.
Skeletons
Expecting around Halloween? Share an x-ray with your friends in this type of twin pregnancy announcement. "Our little monsters are due…"
What We Did: Picture Frames
For our twin pregnancy, we bought two little identical picture frames that hold wallet size photos.
For each picture frame, we printed off a picture of baby feet.
In the first frame, we put the words: "Save this space for me" over the picture.
In the second frame, we had the words: "And me too".
We wrapped both frames up together as a gift and gave them to the grandparents. Since we found out we were having twins on Christmas Eve, a gift wasn't an unusual thing to receive. However, if you want to announce your twins some other time, the gift idea will still work. Everyone loves to get a present!
When the grandparents unwrapped the gift, the first impression was always "oh, what beautiful picture frames!"
Then they read the words and realized we were announcing our pregnancy. They asked, "Are you pregnant?" Their happy response was brief as they tried to mentally process why they were holding two picture frames.
After a brief pause as they figured out the second picture frame, their faces turned to expressions of shock. "You're having twins?!"
It was a fun process announcing twins to grandparents who were completely surprised and watch as they slowly uncovered the announcement of our twin pregnancy.
How to Announce Twins on Facebook, Instagram, Twitter, or more
When you find out you're having twins, you'll have lots of people to share the news with. You may tell family and close friends in person, but it could be easiest to tell everyone else by announcing twins on Facebook or another social media site.
Include a fun (and funny) message in your post using humor or a play on words. Twin pregnancy announcement quotes can spice up your news to the world.
In addition to the ideas above, here are some clever twin pregnancy announcements to get your creative juices flowing.
A 2-for-1 deal, or buy one get one free
Double — double the fun, double dip, double your family size (if the twins are your first babies), seeing double, double trouble
Babies: So good you can't have just one
20 fingers, 20 toes, four eyes, four legs, or other multiple body parts.
Mom is a little "two" good at pregnancy, or Mom is an overachiever
Comes with a built-in friend, a tennis partner, a backup, a stunt double
Create some twin pregnancy announcement riddles and see who can guess the truth
Many times, people's initial reaction will be something like, "Wait, really?" Having twins is unusual enough that people will want to make sure they understood correctly. If your initial twin announcement is a little too ambiguous, follow up with something simple that states what should be obvious by now: We're having twins!
Reminder About Ultrasounds
One obvious choice in announcing your twin pregnancy is to include a photo from your ultrasound. This may be from the first time you found out about your twins. Ultrasound prints can include labels on them, so your ultrasound technician can label Baby A and Baby B or write "Twins!" on the ultrasound photo. If not, the grainy, black-and-white photos can be hard to interpret for people who don't see them often, and you may need to help people understand what the photo shows.
Enjoy the Ride!
Remember, when you deliver the surprise "we're having twins announcement", people will be completely shocked. Enjoy the moment and plan your creative way to announce the pregnancy so you can have great memories of the announcement.
Do you want to do a surprise twin announcement at the gender reveal? Check out these twin gender reveal ideas.
Which announcement is your favorite? Leave a comment and let us know or share what you did to announce your twin pregnancy.
Special thanks to Maranda Lane, Mike Hildreth Jr., Randee Anderson, Jonathan Edwards, Megan Brown, Brandi Porcelli Khoury, Candy Garrison, Hank-Ashley Laurence, Stephanie Fontaine, Lindsay Schwartzseid, Adam Ross, Bethany Williams, Gerardo Iannaccone, William Breymeyer, Arely Madrid, April Pache, Mandy Armes, Laura Barnett, Brian DeGross, Shannan Germond, Heather Lindsay Baker, Amanda Greenberg, Nikki Jackson Vaught, Ward Urlings, Shane Meredith, Shaun Thompson, Jess Anderson, Steve Wisniewski, Amanda Skinner, Tara Derenze, Tony Shearin, Andrew Spalding, Kristi Stetka, Amanda Chatwood-Price, Jason Corns, and Heather Zeller for sharing their twin pregnancy announcement ideas.
Picture by surlygirl