When you are expecting twins, you will have a lot of baby gear to think about. It can be overwhelming when considering how many clothes your twins will need, which car seats to get, and how to buy high chairs, strollers and cribs for twins.
One Crib to Start?
You have several styles of cribs for twins to look at and consider. As soon as your twins are born, be they fraternal or identical, they can sleep in a single crib together for upwards of five months. After that time they start to roll over onto each other or kick each other. Remember to keep them swaddled and not use bumper pads. (Please note that current medical recommendations are to have each twin sleep in his or her own crib.)
Traditional Cribs x 2
Traditional cribs (at least the mattresses) are typically around 52 inches long by 28 inches wide. Because the traditional crib is so long, it will be a good fit for twins and can easily hold both at the same time. Although, some parents might want their twins to be in separate cribs from the beginning.
Transition to Specialty Cribs for Twins
When you begin seeing a lot of rolling over and kicking each other, you can either put a crib separator between your twins or consider separating them. Separating twins will be good for both of them as there will be a smaller chance for injuries. On the other hand, if you are not willing to separate your twins yet, you can always look for cribs designed just for twins. As it turns out, there are specifically designed cribs for twins (although they might be hard to find).
As it turns out, there is more than one dual crib designed for twins. The specialty cribs may be hard to find and it might be easier for you to get two of the standard cribs for your twins shown below.
Pack 'N Play with Twins Bassinet
A short-term alternative to regular cribs for twins is the Graco Pack 'N Play with Twins Bassinet which will allow you to sleep both of your twins side by side in their own space. As they get a little bigger, you can still use the Pack 'N Play without the bassinets for naps, play time, or sleeping arrangements when traveling.
Pamco Twin Crib
There is also the Pamco Twin Crib from New Zealand. The Pamco Twin Crib separates twins with a removable clear panel. Once the twins are a bit older, this crib can be turned into two single beds. This clear panel allows twins to see each other, without kicking or rolling over on each other.
One major disadvantage of this bed is that the mattress is not a standard size so finding bedding for your crib may be difficult. Plus you'll need to find a way to get this crib shipped from New Zealand. In light of this you might want to consider getting two regular cribs like those mentioned below.
Bunkie Cribs for Twins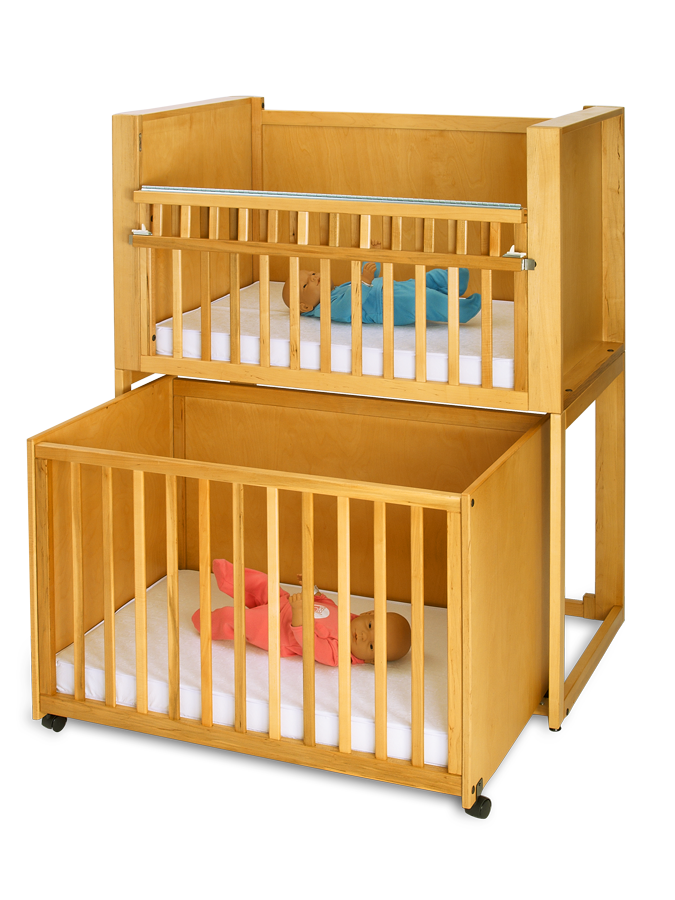 Now, if you live in limited space, you'll want to look at Bunkie Cribs. These double-decker, stackable Bunkie Cribs stand against a wall, almost like a bunk bed. The Bunkie is typically sold to day cares that need to house lots of sleeping babies. In your twins' case, these cribs may work just as well especially if you don't have much space in your home or apartment.
These cribs cost over $1200 plus shipping and take a few weeks to arrive as they are typically built to order.
Duetta Twin Crib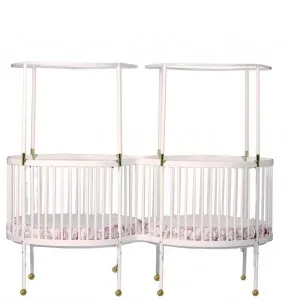 One of the cribs specifically designed for twins is called the Duetta Twin Crib. The Duetta Twin Crib is two round, separate cribs that can be connected while twins are infants. As the kids start to grow, the two cribs can be detached and thus still stay next to each other.
If you want to try something that is not a traditional crib with corners, try the Duetta Twin Crib. The only downside is that this crib is expensive. Expect to pay between two and three thousand dollars to furnish this crib for your twins (if you can find one for sale). You'll be better off with two regular cribs like those mentioned below.
What We Did and My Recommendation
We started our twin girls in the same crib. It was a standard crib like those used by our older sons when they were infants. By the time our girls were six months old, we moved them to two separate regular, traditional cribs.
Sorting through all the cribs for twins options can be an adventure. If you have the space, you can get away with using traditional cribs for your twins. If you're looking for something unique and have the extra money in your budget, you can furnish your twins' nursery with some of the specialty cribs described above.
Recommended Cribs For Each of Your Twins:
Will grow with your babies as it converts to a toddler bed.

Reviews + Pricing
Light and easy to move if you want to change where twins sleep.

Reviews + Pricing
Great for keeping twins in your room.

Reviews + Pricing
Still wondering how to prepare for your twins? I cover specific things you should know and prepare for in my Dad's Guide to Twins book. Learn more about the book here.