A fellow father of twins wrote in and asked, "Do you have any experience helping take care of the twins by yourself through the night and the best way is to feed them?" In this case, his wife is going back to work as a nurse for the night shift. And so dad is going to be all alone trying to take care of his twins, and it kind of terrifies him.
First, hats off to you for caring for your twins by yourself through the night. It is not an easy task. Now, I assume that you'll be bottle-feeding the twins with either formula or expressed breast milk. In this case, you should prepare the bottles the best you can before you go to bed.
Get Preparations Ready Before Bed
With our girls, we ultimately ended up bottle-feeding them formula. And so, before we went to bed, we'd set out all of our supplies, the clean bottles, the clean nipples, and the clean room-temperature water which we left in a pitcher on the counter. We'd pre-measure the formula that we were going to use and get everything set up. So that when we woke up in the middle of the night, we could stagger out there, take care of mixing the formula, and feed the girls. If you can take care of those arrangements before you go to bed, it'll make nighttime feeding a lot easier.
Choose How to Feed the Twins
Now, you have a choice, if you're going to stagger feed your twins or feed them both together. Here, you're going to need to figure out what's going to work best for you and for your twins and what you're going to be comfortable doing and what you think is possible.
Definitely, practice solo-feeding your twins during the day to see what actually works. Because if you can't get both of your twins to feed at the same time during the day by yourself, it's definitely not going to work at night, because the twins are going to be more tired. They may fall asleep on you. And you're going to be more tired, and it's going to be more challenging. So, remember that it's always okay to fall back to what is working, even if that is stagger feeding the twins, even if it's one at a time.
Use Baby Gear to Help
When my wife or I would single-handedly feed the babies, we'd use bouncy seats or nursing pillows to help us hold the babies. We'd put one baby in each of the bouncy seats, and we'd sit between them. And then we can pop the bottle into their mouths and hold the bottles and take care of them side by side. So definitely, practice that in the daytime, so you can do it by yourself at night.
I talk more about caring for your twins during the night in Chapter 5 of my book, the Dad's Guide to Raising Twins: How to Thrive as a Father of Twins.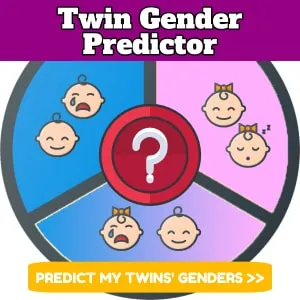 This topic was originally addressed on the Dad's Guide to Twins Podcast Episode 82: Different Maturity Levels, Dad Feeding Twins Solo, Raising Twins Your Way.
Need more help sleep training your twins? Check out this step-by-step guide to sleep training twins from fellow parent of twins, Nina Garcia:
Further Reading