Tyler writes in and says he's got two-year-old twin girls, and they're about to start potty-training. And he has a question, "what happens if I'm alone with them in public and they need to use the restroom? What do I do?"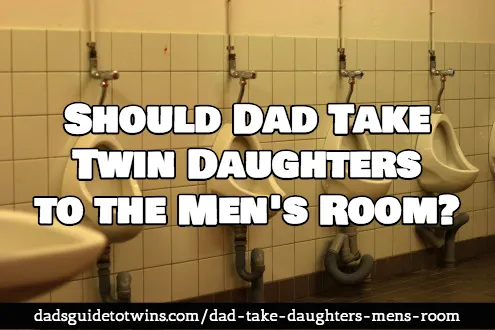 What's Worked for Us
I've been in the situation many times with our girls over the years where I'm out with them in public. Even though we try to get them to go potty before we go to the store, they still need to go as soon as we are at our destination.
I would recommend that you go ahead and take your daughters into the men's room with you to use the restroom.
Eventually, they'll be able to go by themselves together into the ladies room. But when they're still very young or learning to potty-train, that may not be the case. You may need to help supervise them so they get everything right.
Other People's Reactions
I've taken my girls into the men's room on countless occasions, especially when our girls were very small and when they were potty training. And you know what? Nobody ever made a comment to me or said anything about taking them with me to the restroom. Usually, as soon as they see the little girls, they look up and look for dad. And if the dad is there, everything is fine in the eyes of the other people in the bathroom.
You may occasionally get advice like don't be alone with girls in public. Frankly, I think that kind of advice is ridiculous, because these are your daughters, and you are their father. As a dad, you have a responsibility to take care of them.
You're not going to send your twins alone into a strange bathroom where they may be scared, or there may be stranger anxiety. Go ahead and take them with you into the restroom to help them. Eventually, they are going to be good buddies, and you can send them off together as a pair. Then they'll watch out for each other in the ladies' room.
Explain Why
As your twins get older, you can explain the difference between the men's room and the ladies' room. Even now that my girls are almost seven, I will occasionally take one with me into the men's room if I can't send her alone. She will ask why I'm taking her into the men's room. I'll say, "because I can't go into the ladies' room." And that seems to make sense to her. Even as your twins get older, they may not want to go by themselves into the restroom, in which case you might have to take them with you.
Won't Be This Way Forever
Good luck with the potty-training and getting your girls to be self-sufficient on using public restrooms. It will happen eventually over time. You have to do what you need to do to help your girls out in public, even though that may be contrary to culture expectations of which restroom they are using.
As long as your kids are still very young, people will probably give you a pass and not make much of it if they are in the restroom with you. One way to tell if you've waited too long is if when you go into the restroom, your girls are older than the other kids in the bathroom, it may be time for them to use their own facilities.
I talk more about the potty challenges of twins in Chapter 12 of my book, the Dad's Guide to Raising Twins: How to Thrive as a Father of Twins.
This topic was originally addressed on the Dad's Guide to Twins Podcast Episode 86: Portable Sleeping, Public Restrooms, Time with Twins. Original photo by Antti T. Nissinen