Do your twins share clothes? Our twin girls have shared clothing and still share to this day. You'll need to know how your twins will share clothes so you can plan your clothing purchases.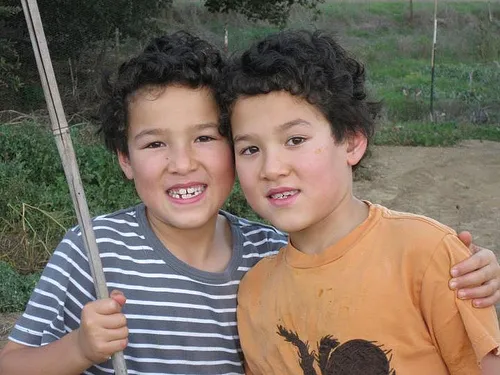 One of the advantages of having twins is that they learn to share early in life. Clothing is just one of those shared experiences.
While twins can wear the same outfits, they can't both wear the same outfit at the same time. Yes, you still need multiple outfits. Nevertheless, your twins can take turns wearing the same clothing.
Boy/Girl Twins
Obviously, it is easier for same gender twins to share clothes. Nevertheless, boy/girl twins can still share. The style and colors of the clothes will help guide your sharing decisions here.
When your boy/girl twins are infants it will be a lot easier to share the basic clothes that they wear every day.
Most of the recommendations below will work for same gender twins. However, if you're budget crunched or just haven't done all that twin laundry yet, I'm sure you can get creative.
Newborn Twins
Newborn twins are messy. They spit up, have diaper blowouts, and need frequent clothing changes. When you leave the house and want your twins to look cute, by all means dress them up. However, when you are at home, the reality of caring for them sets in. Fashion takes a back seat.
With all the messes and wardrobe changes, having your twins share a stack of onesies and diapers will be a lot easier to maintain than sorting out which clothing belongs to which twin.
First Year
During the first year, you (as the parent) will be choosing what your kids wear. You will also be dressing them each day. It is therefore your choice if they are to share clothes are not.
We color coded the clothing our girls wore to help identify them and so had distinct stacks of clothes for each girl.
Toddlers and Beyond
Once your twins start to talk and express their opinion, the clothes situation gets interesting. You lose control of what clothes are shared. Your kids will decide what they want to wear and will freely swap and share clothes as they see fit.
Gifted Clothing
As the parent, you can buy clothing and say it is for both your twins. However, they will still receive clothing as gifts from family and friends.
These gifts seem to hold a special place in their minds. Your twins will remember whose outfit is whose and who was the gift giver.
These gifted outfits may be shared but it often comes down to a negotiation between your twins.
As your twins age, they will share differently. However, one constant is that sharing clothes is natural for twins, and you'll likely see it in your family too.
Picture by Ann Marie Michaels