Every twin parent deserves a great night's sleep.
Yes, even you!
Since you are already getting up multiple times a night to feed the twins or walk a child back to bed, you definitely need to sleep well when you get the chance.
You need a comfortable bed that helps you fall right to sleep and makes sure you wake rested in the morning.
DreamCloud sent my wife and me a mattress to try in our home. I was pleasantly surprised by the results.
After sleeping on the bed for just a week, my wife and I quickly noticed a difference in our sleep quality compared to our old mattress.
See the DreamCloud Mattress here.
After the first night's sleep, my wife proclaimed that she didn't wake up sore like with our old mattress. Upon hearing that, I realized that I too wasn't sore. Hooray!
What a gift to be able to wake up free from pain and be able to get going with the day quickly! Especially when that usually involves scrambling to get all the kids ready for school.
I've partnered with DreamCloud to help you get a better night's sleep too. If you order a DreamCloud mattress today, you'll get $200 off your new mattress. Plus, they will deliver it to your door for free!
Get $200 Off DreamCloud Luxury Mattress!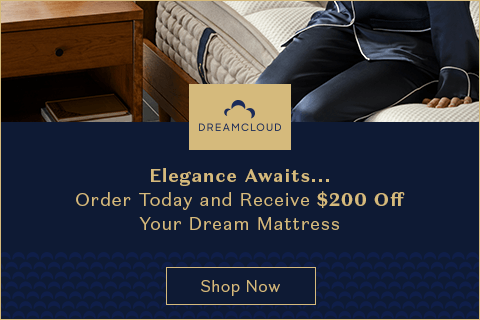 DreamCloud has an optional "White Glove" service that will actually set up the bed in your room so you don't have to do any heavy lifting.
We opted to set up the DreamCloud mattress ourselves.
DreamCloud Mattress Unboxing
FedEx dropped off this huge (and heavy) giant roll that looked like a jumbo sushi roll inside a big blue stuff sack (like those you take camping).
I unwrapped the packaging and placed the mattress (still rolled up) on the bed.
Once I broke open the vacuum seal, the package started to unroll magically and gradually inflated to its final mattress shape.
It was fun to watch the entire process happen in just a couple of minutes.
Here's a quick unboxing video of the mattress and the initial installation:
DreamCloud Mattress Review & First Impressions
My first impression of the bed was that it felt like those comfortable beds I've experienced at hotels while traveling. I initially felt more comfortable side sleeping but over the last few nights, sleeping on my back or side has been great.
The DreamCloud mattress has a soft and smooth surface with a hand-tufted, Cashmere blend cover that makes it easy to relax into sleep.
Meanwhile, the supportive layers of premium memory foam support me while sleeping so I wake up in the morning without being sore. Obviously, our old spring mattress wasn't the best for supporting us during sleep!
If you're ready for a new mattress, check out DreamCloud. Each mattress comes with a forever (yes, forever) warranty. Plus you can try it for a full year with their 365 Night Sleep Trial and if you aren't satisfied, they will take it back. But if our first week is any indication, you'll be happy and sleep better on a DreamCloud.
Learn More About DreamCloud Luxury Hybrid Mattress
3 Month Update (August 2018)
After sleeping on this mattress for three months, we are still in love with it! The balance of comfort and firmness has remained and we're still waking up refreshed and ready to go for the day. We took a long road trip this summer and slept on many cozy hotel beds. When we returned home, we were surprised that our bed was just as comfortable (and even more so) than the "premium" mattress we experienced while traveling.
12 Month Update (May 2019)
We hit the year mark with our DreamCloud mattress and are still sleeping great. I'd say "sleeping like a baby" but we all know they wake up too much during the night!
I recently had my in-laws stay with us and we let them sleep in our room on the DreamCloud. They couldn't stop talking about how great it was!
When they went home and we returned to the bed, I was worried that my custom body fit of the mattress would be ruined. But the bed welcomed me back with open arms and I've slept great since.
Get Your DreamCloud Luxury Hybrid Mattress here
DreamCloud sponsored this post by sending my family a mattress, however, I am sharing my own thoughts in this
DreamCloud Mattress Review. All opinions are my own. Links above are referral links. If you purchase, I'll get a small bonus. Thanks for supporting Dad's Guide to Twins!
Further Reading