We got a question asking for some ideas on how to get twins to crawl. A dad wrote to say his twins are 12 months old, and he says that they will still not crawl. He's tried everything, including putting a toy or cookies in front of them — all kinds of bribes, but they still will not crawl. He does note that they were born at 32 weeks, but have hit every other milestone except, of course, standing and walking, etc.
Having your twins crawl is an exciting milestone for any parent, of course. But once they start crawling there's no stopping them, and there's no turning back. So maybe it's okay that they don't crawl right away.
Creative Crawling
Our girls are twins and they never crawled in the traditional sense before they started walking. They got around by scooting on their bottoms. This was kind of fun to watch, and definitely different from what we saw with their two older brothers, who crawled in kind of a normal fashion on their hands and knees before they started walking. Our girls got so good at scooting around on the floor that they could move at quite a fast pace.
Keep in mind that kids typically start crawling between the ages of 6 to 10 months old. However, if your twins were premature or have had any developmental challenges it may take longer for them to start crawling, and that's going to be okay. Remember that each child will learn to get around in his or her own way, and it may not be a typical crawl like what you're expecting or perhaps what you've seen with other kids. You may have seen an unorthodox crawl, like an army-man crawl where they're on their bellies, or a crawl like my girls did, where they're not really crawling; they're just kind of scooting around on the floor. Some babies may skip crawling altogether and go straight to standing and then walking.
When to Get Help for Your Twins
If your twins are not moving around at all, I'd definitely talk with your pediatrician. If your doctor is not concerned, you might just need to give it a little more time. If both you and your doctor are concerned, perhaps you should consult with an occupational therapist, or related specialist, to help get them moving.
So you may need a little more patience, or you may need some additional attention from a therapist or medical professional. But don't worry, your twins will be getting around sooner rather than later and then there will be no stopping them.
This question was originally addressed on the Dad's Guide to Twins Podcast Episode 59: Crawling Twins, Flying While Pregnant, New Job to Afford Twins.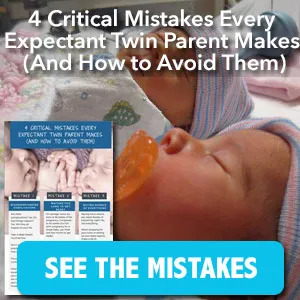 Picture by Donnie Ray Jones.
Further Reading