Podcast: Download
Occasionally I've been asked, "Which twin is the bad twin?" I never know quite how to handle this question. It is as if you must always have a good twin and a bad twin.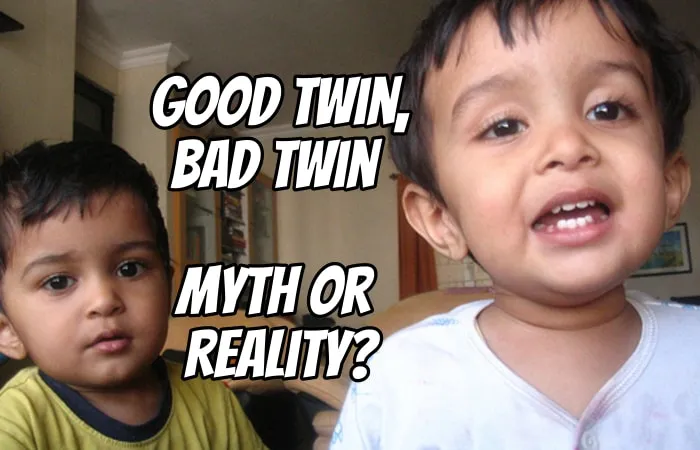 Which is the Bad Twin?
What does "good" or "bad" even mean here? Well behaved, as opposed to always mischievous?
In observing our twins' personalities and behaviors I don't see that we necessarily have a "good twin" and a "bad twin" all the time. The pattern I've seen is that each twin plays the part. And these parts are often opposites on purpose.
When one of our girls is having a fit or throwing a temper tantrum, the other all of a sudden is the angel child.
The "good twin" in this case will call out her behavior: "I not crying," or "I be good." The good twin is hungry for attention and wants to be praised for good behavior.
Focusing on the Good Twin
Here, as a parent, you have the choice, do you focus on the "bad twin" to try to correct the behavior? Or do you pay attention to the "good twin" for proper behavior?
We've had success focusing on the good twin. The bad twin starts to see this and wants the positive attention too. It has helped curtail some (but not all) bad behavior. After all, kids will still be kids and have episodes of craziness.
As we've observed our twins, one does have a tendency to be more stubborn than the other. However, any given situation can see behaviors and personalities switch between our twins.
My wife notes that this difference was obvious even when the girls were still in the womb. Your wife might be able to note a similar pattern too with your twins.
Parents of twins are blessed with all types of babies. You might have two "good" babies, two "bad" babies, or a mix. You can't predict what you'll get when you see that first ultrasound. However, you'll have your challenges any way you look at it. Other families you know will seem to have it easier than you do.
Do your best with what ever temperament your twins have. Over time you'll see trends in each of your twins and will know what to expect out of each. You'll be able to predict behavior of your twins based on the situation and will learn what works to counteract negative behaviors.
Have you observed good twin, bad twin behavior in your twins?
Picture by Ankur P