Here is a question from Sara. She says, "How should you handle Dad's shallow stomach in the operating room during the twins' C-section?"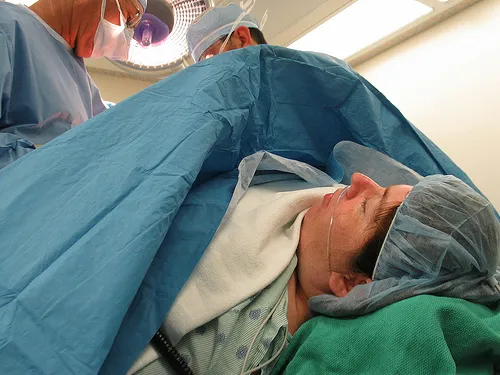 My wife had a C-section for our twins. I was in the operating room. Now, I don't have a shallow stomach or a queasy stomach, but it is important to be prepared and know what to expect when you get into the operating room.
Tell the Staff About Dad's Stomach
Communication with the doctors and nurses in the operating room is essential so that they can be prepared to help your husband if needed. If your husband has a weak stomach, don't worry too much about the time in the operating room.
During my wife's C-sections, the doctor had me sit behind a screen near my wife's head and then told me when I could stand up. So this kept me from seeing a lot of the details of the actual procedure, but I still got to see my kids being born.
So yes, it is an operation, and yes, there is going to be blood, but there's a huge, big cloth surrounding the incision and the opening, and so you won't see a lot of gore. If seeing blood is really the problem, then you should be able to stand up to see the doctors but not the surgical site. Communicate to the doctors ahead of time that you need a play-by-play so you are able to feed information to your wife during the C-section.
Another way to mitigate being queasy is to focus on your wife. Talk to her, tell her what's going on. You can also, while you're sitting next to your wife, prepare your cameras for when the twins are born. If all else fails, just stay seated and they will bring the babies to you. Once the babies are born, the nurses will wrap them up, clean them up and bring them over to you.
Sometimes people who have weak stomachs might find it helpful to have something to suck on like a piece of candy or a peppermint, something of that nature.
Support Each Other During the C-Section
Also make sure that you talk it over as a couple as far as what is most important to you during the delivery. If the wife wants details, then you as the husband should be prepared to give them to her as you stand up near her head. If it's pictures that are most important and you're too weak to take them, see if the anesthesiologist can help you out.
We always, during our C-sections, have had an anesthesiologist sitting there right by us monitoring my wife's condition and status, so maybe you'd be OK additionally standing over by the infant warmers and the neonatal nurses so you can take pictures as soon as they bring each baby over.
Also make sure that you try positive self-talk. Your wife is doing something extremely hard, so encourage each other and be prepared to support each other if one or the other feels like you're not going to make it.
This question was originally addressed on the Dad's Guide to Twins Podcast episode 24: Dad's Queasy Stomach During Twin C-Section, Transition from Childless Lifestyle, Pack N Plays .
Picture by Leonard Erlandson