I hear from many fathers expecting twins, and a big concern is how to handle both infants at the same time.
Frankly, handling infant twins is a challenge. There are many moments of joy but also a lot of work.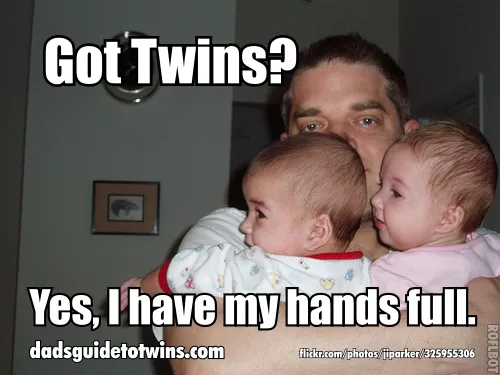 Here are some tips for handling both twins:
One at a Time
If you're alone, you don't have to do everything simultaneously. You make think you do. But you don't. Almost every request that comes your way can be prioritized. One twin at a time.
Take turns.
Most Needy First
Triage is the word of the day. Hospitals triage patients to determine which person needs urgent attention. You must likewise triage your twin patients.
Assess the situation and see who really needs the most help right now. Take care of the most urgent need first. This is not necessarily the loudest twin.
Use Baby Gear to Assist
Having some baby gear on hand for your twins will help support the logistics of handling both twins at the same time.
We used bouncy seats to help feed our infant girls. If one of your twin needs immediate care, put the other in a rocker, bouncy seat, or even on a blanket on the floor. These assorted baby gear items are your extra hands when you're alone and taking care of the twins.
Get Help
You don't have to do it alone. Invite your friends and family to visit and help with the twins. If Dad is working a ton, see if you have some room in your budget to hire a babysitter for a few hours a day to help at home with the twins.
Do Things Together But Still One on One
Many things can be done with both twins. Feeding, bathing, tummy time, and more can involve both kids at the same time. However, in each of these situations, you can take turns and still manage one child at a time.
Position One, Then Two
What about carrying two twins at the same time?
Pick up one and get her positioned on your shoulder or arm or wherever. Then reach and get baby No. 2. It will take some practice, but you'll get the hang of it. As a bonus, your arms will get a workout.
Don't worry too much about handling both twins at the same time. Triage. Take turns. Be flexible and you'll do great!