If you've got healthy, full-term twins, you should be able to travel even when your kids are newborns. How you travel may impact your plans.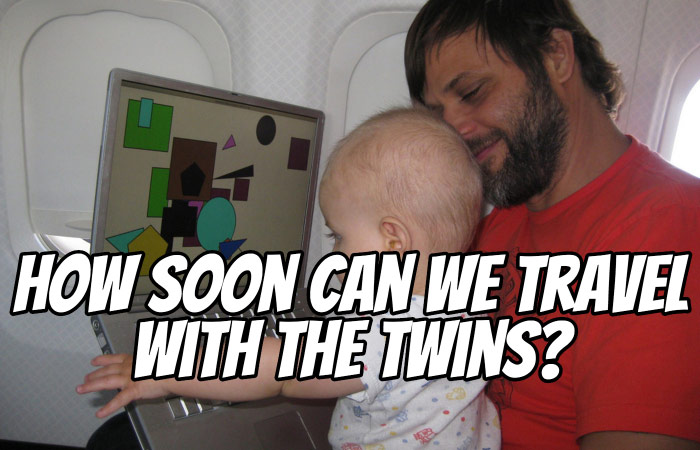 Air Travel
Air travel with infants is generally very safe. However, some airlines will let you fly your babies only when they are older than 2 weeks old. You'll need to have a copy of the birth certificates. If you're flying before the twins turn 2 weeks old, you'll need a medical release note from the pediatrician. Check with your specific airline to confirm the details of traveling with newborns.
The good news is that you can carry the twins on your laps (one baby per lap) until age 2 and save money by not buying airfare for them. Be sure to check in at the airport and tell the agent you have lap children.
Healthy Babies
You want to give your newborn twins time to adjust to life in the cruel, germ-filled world. While a 2-week-old baby's immune system is good and getting better, try to give your babies more time to get established and strong before venturing out on a big trip. If your trip isn't absolutely necessary, postpone it for later.
Doctor Visits
You'll be taking your twins to the doctor a lot over the first few months for well-baby checkups. Make sure your travel plans don't interfere with getting your twins to the pediatrician.
Good Routines Help Travel
The younger your twins, the less likely you've figured out what you're doing. You're still learning how to manage and feed twins. The babies are learning how to live. Once you can get into a good routine with your twins, any trip will go a lot smoother.
Once your twins are on a predictable feeding and sleeping schedule, you can plan your trip to take best advantage of those times.
Before you venture out on a cross-country trip, try getting out of the house with the twins. If you can't handle a trip to the store or a walk around the block, you need to wait before you go out of town on a big trip.
Easier When They're Little
In retrospect, our infant twins were easier to travel with than our under-age-2 toddler twins. Infants sleep or stay put in your arms. Toddlers (especially as lap children) are a constant tornado of motion and energy. Unfortunately, controlling twinadoes on an airplane is not easy.
We've found each trip with our twins is different. They mature a little bit and every time has different challenges.
Happy trails!
Picture by Liz Henry