As a father of twins, you want to bond with your twins and build a strong, lasting relationship.
The key to this bond with your twins is to spend one-on-one time with each of them individually.
If you spend all your time with both twins, your attention will be divided.
Remember that your twins are individuals and each has his or her own personality and quirks.
Bonding with Infant Twins
The best time to bond with infant twins is when you are helping with their daily necessities.
Take the opportunity when you are feeding, changing diapers, or dressing your twins to talk with them and focus on them individually.
When our twin girls were still infants, I loved to take turns feeding each one. As they slowly drank their bottles, I could study their faces and expressions and talk with them about the great future that was (and is) ahead of them.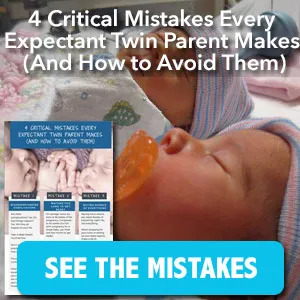 Bonding with Toddler Twins
My favorite bonding activity with toddler twins is to take them out one at a time to lunch. You can have father/son or daddy/daughter lunches with each of your kids too. I've found that getting out of the house with one of the twins helps focus all my attention on that one child and is a great way to build and strengthen my relationship with each child.
If lunch doesn't work for you, consider other outings with just you and one of your kids. This could be a Saturday activity, an errand to the store, or another time together that best meets your schedule.
Make these one-on-one times a routine event and your kids will look forward to this tradition with Dad.
(NOTE: Still expecting?
Get weekly updates on your twin pregnancy here.)
Regardless of the age of your twins, you can make time for each individual child. This time focused on each child will be the foundation of a strong bond and lasting relationship with your twins.
(Picture by redagainPatti)
Further Reading