Congratulations! You've chosen to breastfeed your twins. Now the challenge becomes: how to breastfeed twins at the same time.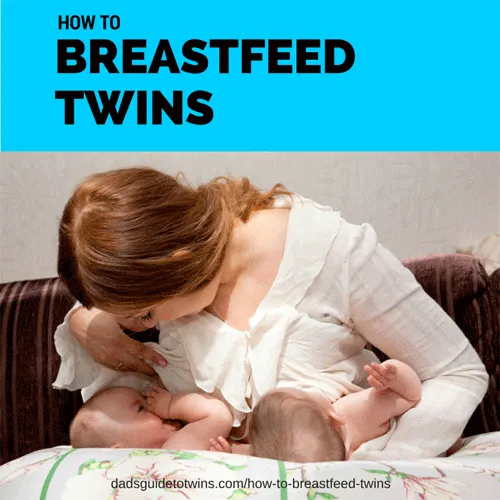 Train Your Twins
Your babies will have a natural sucking response that can lead them to latch on and successfully breastfeed. However, it does require some training and practice for both mom and babies.
Take advantage of the nurses and a lactation specialist in the hospital before you go home with the babies. They can help you get a handle on the logistics of breastfeeding.
You may need to work with each baby one on one to get them used to breastfeeding before you try tandem feedings. You'll want each child to be able to get a good latch and successfully feed by themselves before you worry about the additional logistics of simultaneous feeds.
If your twins are premature, it may take several weeks (or getting past their original due date), to get in a good feeding routine.
When you get home, things might not be working like you expected with breastfeeding. With newborns, you've been under a lot of physical and emotional stress the past few days. You'll forget things or just be too tired to remember what you're suppose to do.
Keep your lactation consultant's phone number close so you can call with questions when you run into trouble.
Once you've got the hang of nursing one baby, you can move on to breastfeeding your twins at the same time.
By feeding your twins simultaneously, you'll keep them on a similar schedule and help maintain some sanity in your days (and nights).
Create your Nursing Station
To successfully breastfeed your twins, you'll need a plan and some back-up reinforcements. There are many resources created by moms for moms to help you hold and support the babies while they nurse.
Use a large breastfeeding pillow (like this one) that wraps around your waist to support your babies while feeding.
When you are getting into position, you might consider putting each baby in his or her own Boppy pillow (one on each side of you) to preposition them within reach.
Then once you are situated, you can reach over and grab one baby and get her feeding. Then reach over and grab the other and get her set up as well.
Watch the following video for tips on:
A good system of using pillows to help with breastfeeding your twins
How to burp babies one at a time while the other finishes feeding
How to transfer babies back to a resting position after they are finished feeding
Getting Your Twins to Feed at the Same Time
Getting your twins to feed simultaneously will take some practice but is possible.
Watch the following video for tips on:
How to position your babies to comfortably feed
Getting your best eater latched on first
Working with a baby that has difficulties breastfeeding
How rotating which side each baby feeds at will make sure they are getting equal amounts from each breast. This keeps mom's milk flow at a good, balanced pace in case one child drinks more than the other.
Twin Breastfeeding Positions
There are several different positions for breastfeeding twins. You should try each to see what works best for your babies:
Double Football – each baby's body is tucked under your arm
Football and Craddle – one baby held like a football and the other across your arm
Upright Latch – both babies' bodies lay down toward your waist
Front Cross – babies form an X in lying across your chest.
Practice and Adapt
Yes, your babies have a natural tendency to want to breastfeed. It is natural, after all. However, they still have to learn how to do it efficiently. Plus you have to learn how to breastfeed twins. There is a learning curve for both Mom and babies.
Be patient with yourself and your twins as everyone learns what will work during feeding times.
In our experience, there are lots of factors which may lead to you bottle feeding instead of breastfeeding. It is OK to change your plans if something isn't working. Try your best. Get help from a professional lactation specialist if you feel you need it.
If things still aren't going as you'd like, it is fine to switch gears and move to bottle feeding.
Be flexible and it will all work out for the better.