It'll be crazy busy when twins are born into the family. You may get twice as much fun and twice as much love from twins, but you also need to work twice as hard. Having a baby is already a challenge in itself but if you were to be blessed with beautiful baby twins, you'll need to pull double duty. Here's how to do it as efficiently as possible.
The Super Parent is a Myth
Ask for help when you can.
Don't be afraid to ask for practical support from family and friends. You'd be surprised at the level of help you'll get if you only ask. This is especially crucial when you bring your twin babies home. Mom will need time to recover from delivery (and likely a c-section). You might have read all the books about how to care for twins, but without an extra pair of hands, you will run yourself ragged.
So ask your sister, sister-in-law, mom, or dad if they can pitch in with diaper changes, babysitting, or maybe picking up dinner — any small thing that can help you stay organized would be fantastic.
Prepare For Your Twins
This means having two car seats, a twin baby stroller, two cribs (some parents only get one crib first, and then move on to getting another one as the babies get older), and other essential items before the twins are born. So don't wait until the end of the pregnancy to run around baby stores snatching up any stroller or car seat you find.
Try to Follow a Schedule
Whether it's feeding, sleeping or nap time, you'll want to create a schedule for your twins because this will help you get the "crazy" out of caring for twins. Keep them on the same feeding and sleeping time so you're free to do what you need to do afterwards. The feeding part is going to be tricky because breastfeeding both babies at the same time takes some practice. If you bottle feed (formula or expressed breast milk), it is easier for Mom and Dad to help with feedings.
Take a Break
Finally, the best way to take care of your twins — and all your kids, really — is to take real good care of yourself. Calm and happy parents make for calm and happy kids (well, most of the time). So try to get out of the house (let the grandparents babysit) and go for a run with your spouse or friends. Do a date night. Relax, rejuvenate, and come back home to your babies feeling energized for whatever challenges may come with raising twins.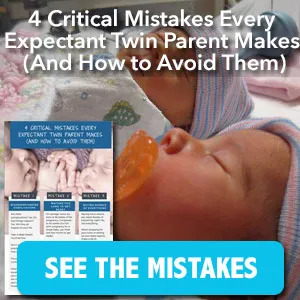 Picture by surlygirl.