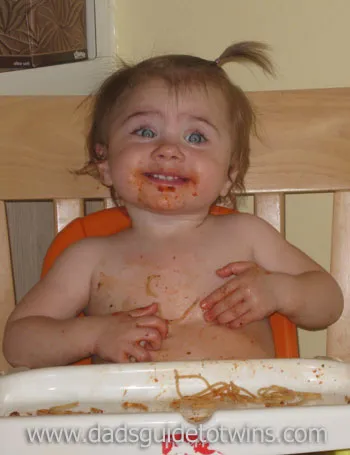 Babies are messy eaters.
Twins combine each other's messiness to create a perfect storm of mess that seems to be larger than the sum of each individual baby's mess.
Once your babies are eating solids and feeding themselves, your twins will make a mess with every single meal that they eat.
This means that there will be food not just all over the twins (faces, arms, legs, in the diaper, inside the clothes, etc.), but there will be food on the floor, walls, table, ceiling, and on you.
Cleaning the floor is one of my least favorite tasks and probably isn't your favorite, either.
By the end of the day, you'll find that your twins have covered your kitchen floor with food crumbs, spills, remnants, and rejected nibbles.
You may be tempted to clean these up right away. Granted, if your twins are your first kids, you may think that is the only option.
However, after you have a few kids, you realize that messes are inevitable and you can't immediately clean up every one of them.
The messy kitchen floor is no exception.
My advice: clean up wet messes right away, let everything else wait. When you let regular food wait on the floor, it will start to dry out and then becomes that much easier to sweep up.
So waiting to sweep up the kitchen floor actually works to your advantage because all those dried bread crumbs, cracker pieces, pieces of rice, and hardened noodles sweep up all the easier when they aren't fresh.