The odds of your wife going on bed rest during the twin pregnancy are much higher than with a singleton birth. Start thinking now how you can help your wife cope with and survive a twin pregnancy on bed rest.
My wife wasn't on full bed rest with our twins but the doctor wanted her to rest several hours a day. We had to adjust our schedule and routines to accommodate this requirement and to keep both her and our babies healthy.
Even if you don't have to do bed rest with this twin pregnancy, the preparations and help you'll give your wife will be greatly appreciated. I recommend you prepare for bed rest and if it doesn't come, you'll still be able to ease the burdens of a twin pregnancy.
While on bed rest during the twin pregnancy, your wife will need both emotional and physical support. Ideally, you'll be giving her that support. If you are not able to help as much as is required (perhaps due to work commitment or related travel), you'll need to get helpers to come into your home and assist your wife.
Emotional Support
Empathy – Your wife will be going through something that you'll never experience. Nevertheless, you need to listen to her and share her feelings so you can better support her during this challenging time.
Words – Yes, Dad, you'll need to verbalize your thoughts and feelings in support of your wife. Talk with her and encourage her during the bed rest.
Comfort Items – Your wife will want some things (food, entertainment, etc.) that will help her feel better emotionally. Identify and deliver those comfort items your wife likes.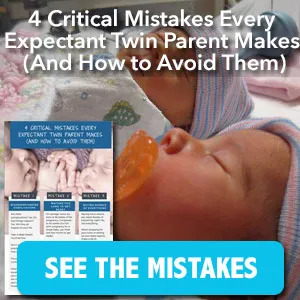 Manifest in Actions – All the words in the world won't mean a thing if you don't take action and show your wife you mean what you say. Take action and actually serve your wife in her moments of need.
Physical Support
Priorities – Remember that your wife's health and the health of your unborn twins are your number one priority. Look at the bed rest situation through that perspective and opportunities to help your wife will become obvious.
Remove Burdens – When your wife is on bed rest with the twins, you must remove as many of her burdens as possible. Consider shouldering her responsibilites with everything she does around the house. You can cook. You can clean. You can take care of the older kids. Look around the house. Is there something that needs to be done? Do it.
Comfort – I hurt just watching my wife during the later stages of the twin pregnancy. It didn't seem physically possible for her to be carrying two babies and still be able to function. Your wife will be extremely uncomfortable. Do everything you can to make her comfortable. Let her rest. Bring her what she needs. Massage her swollen feet.
Bed Rest Means No Rest For You
Bed rest is for the mother, not the father. You'll need to step it up and work even harder during the bed rest to help your wife cope with the challenges and make it to a successful twin birth.
What else do you think you can do during bed rest to make things easier for Mom?
Further Reading