The time has come to potty train your twins. You've got your stash of supplies and are ready to go.
Let the games begin.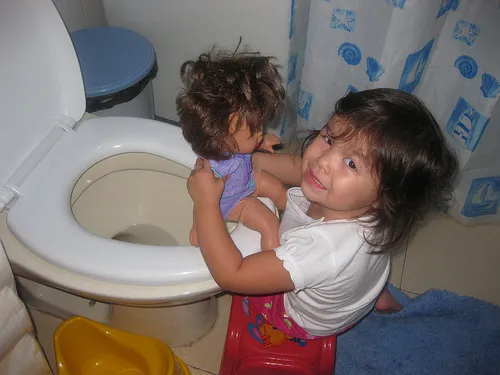 Potty training your twins really comes in two phases: teaching the skills and daily practice.
Decide Which Parent Will Train
Which parent should potty train the twins? You need to decide based on what makes the most sense in your situation. My wife and I took turns with each of our boys (singletons) and we decided that she would potty train our twins.
This step is all about expectations. Even though one of you will do the official training, the other spouse will need to support the trainer and reinforce the right behaviors for the trainees as well.
One At A Time
Feeling overwhelmed at the thought of training both twins at the same time? Take heart: it is fine to train each twin one at a time.
You Have to Teach Them
Your twins will not naturally know how to use the potty. They won't know how to pull down their pants, sit on the toilet, use the toilet paper, pull their pants up, and wash their hands unless you show them. These very tactical skills are essential to potty training and too often parents assume that kids just know how to do it. You need to set aside a day to teach and practice these basic skills.
Pick The Day
Look at your calendar and set aside "potty training day" for one of your twins. Mark it on the calendar and start talking to your child about that day. Get them excited about potty training by taking them to the store to pick out "big girl underpants" and help them prepare for the big day.
Potty Training Day needs to be a day when you are free from distractions and other obligations. You need to dedicate all your attention to the process and focus 100% on your child on this day.
Learning the Skills
As I've mentioned before, the book Toilet Training in Less Than A Day has fabulous step-by-step instructions on how to train your child.
It starts with your child "training" a doll that can wet herself. Your child will help the doll to learn how to use the potty. In so doing, she will learn the steps herself.
After the doll exercise, you will need to have your child drink lots of fluids throughout the day. The book's method uses positive reinforcement so it rewards the child when she has dry pants.
Accidents are followed up with practice drills reinforcing how to run to the potty, getting on the potty, and then repeating the process.
By the end of the day, your child can physically use the toilet by herself. Truly amazing.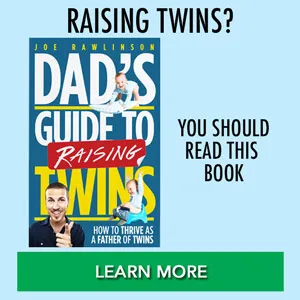 Continual Reinforcement
After the mechanics of potty use are mastered, you will need to constantly praise and reinforce your twins during the subsequent weeks and months. Over time they will become more self sufficient but be sure to stick around and support them until they can go unprompted and unassisted.
Positive Peer Pressure
One of our girls wanted to potty train and the other parked her heels and refused. So we trained one and left the other in diapers.
However, as the diaper-laden girl saw all the attention and praise her sister was getting, she quickly wanted to train, too. One advantage of twins is that once you get one doing what you like, you can leverage that peer pressure to influence the other.
Have you already potty trained your twins? What methods worked for you?
Picture by The Wu's Photo Land
Further Reading