I get lots of questions about how to handle crying twins.
In fact, I discuss in great detail how to soothe your twins and care for infants in my book, the Dad's Guide to Raising Twins: How to Thrive as a Father of Twins.
One of the most popular questions I get is: Will twins cry a lot?
The answer is yes. All newborns cry a lot. That is the only way they have to communicate with you. It is perfectly normal for your twins to cry.
Hungry? Cry.
Tired? Cry.
Wet or messy diaper? Cry.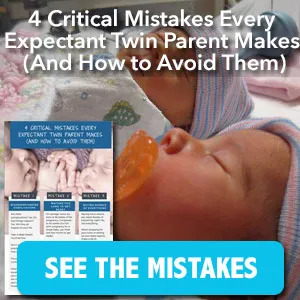 The challenge with twins is that you have two newborns in the house. So even if they both cry a normal amount for newborns, it feels like they cry a lot or that someone is always crying.
I noticed that often only one twin would be crying at a time. This, of course, is good news because you can then soothe that child without having to worry about the other.
Find Out the Reason for the Crying
Before you can properly sooth your crying twins, find out and fix why they are crying. Is it time to eat? Are they tired? Do they need a diaper change? Are they hot? Cold?
Once you identify and fix the problem and they are still crying, you can move to the soothing stage…
One Powerful Method for Soothing a Crying Baby
One method that worked well for us to soothe our babies was the 5 "S" method discussed in Harvey Karp's book The Happiest Baby on the Block.
Suck
We used a pacifier for our newborns or even a finger to suck on to help soothe their crying. Often, just a pacifier would calm our crying babies.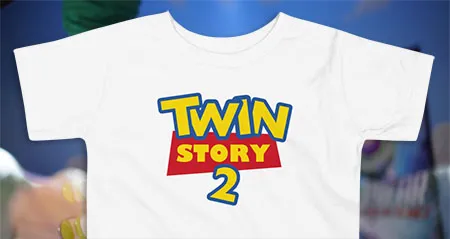 Swaddle
You'll notice that the nurses at the hospital always swaddle up your babies in a tight little bundle. Swaddling helps keep your babies comfortable, warm, and under control. When our babies were crying, the first thing I'd always do (after the pacifier) was to swaddle them up. Swaddling helped control the flailing arms and legs that often accompanied crying sessions.
Side / Stomach
Pick up the baby in a football type hold with child's body supported by your arm and his head resting in your hand. Make sure the baby is resting on his side or stomach.
Shushing
Loudly, but not screaming, make a "shhhhh" sound like when you are telling someone to be quiet. Do so close to your baby. Remember, she just spend several months inside mommy's tummy and heard the constant woosh-woosh of her mother's heartbeat (as well as her sibling's heart beat). It was loud in there! Recreating that ambient noise will relax your baby.
Sway / Swinging
With the child's head in your hand, you can gently sway the baby back and forth. Again, this is trying to mimic the experience in the womb where the baby was in constant motion as the mother moved about. There is comfort and familiarity in motion for the baby.
When we used the 5 "S" method on our crying babies it magically soothed them at least 90% of the time. Often our babies calmed down after only a few of the "S" steps.
Handling Two Crying Twins at Once
The method for soothing two crying babies at once is the same. The question becomes who gets soothed first.
If you have helpers around (which I highly recommend), each of you can soothe the twins at the same time using the steps above.
If you are home alone, you will have to pick which baby you soothe first. In this case, try swaddling each baby and then picking them both up and proceeding with the shushing and swinging phases as you carry both twins around the house. You will become a pro at carrying both twins at the same time.
Crying Isn't Personal
Although two crying babies will be nerve racking and frustrating, try your best to stay calm. They aren't mad at you, so don't take it personally. Stick to the 5 "S" method and when your babies start to cry fall back into the familiar routine. By having a systematic way to soothe your twins, you'll do so more quickly and with less stress.
Picture by TheGiantVermin
Further Reading